Alumni Spotlight: Anjanette Young, MSW '15
Anjanette is a clinician, advocate, and founder of Café Social Work. She has many years of experience with mental health interventions, crisis management, clinical screening, and assessments with individuals, children, and families. Her clinical experience includes medical social work at UIC's Division of Specialized Care for Children. Anjanette also founded Café Social Work, whose mission is to increase the representation of minority and underrepresented individuals in the social work profession.
In February of 2019, Anjanette was the victim of a wrong and botched police raid, during which police battered their way into her apartment and subjected her to humiliating treatment. Subsequently, she has been a strong and vocal advocate who has tirelessly sought justice not only for herself, but for all people impacted by police raids and excessive use of force. In this interview, Anjanette speaks of her experiences and her advocacy.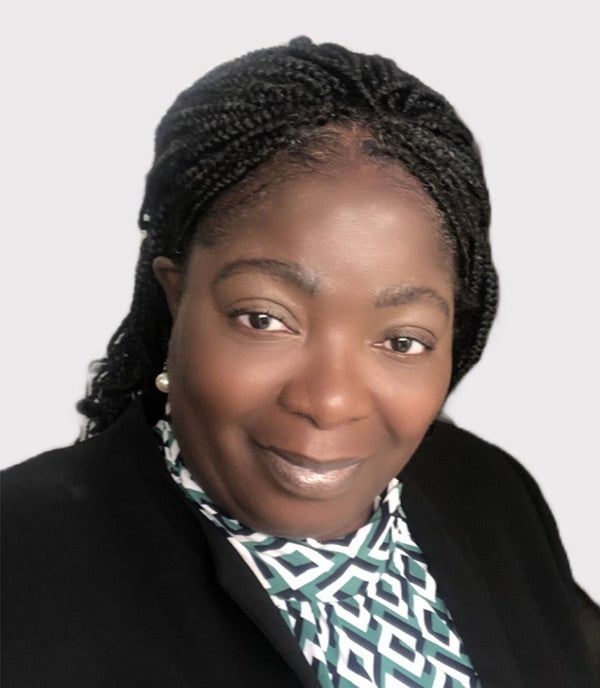 How have the experiences of the last two years changed you personally?
From the original raid in 2019, and the moment my attorney and I made the legal decision to release the bodycam footage, to the all legal wrangling with the City, it has turned my world inside out. So many things in my personal life have had to shift because of this. I have been diagnosed with PTSD and major depression, and as a clinician I understand what that means, but personally living through it is a different thing. This Fourth of July weekend was a huge moment that really made me understand how deep my PTSD was. I live close to the lakefront where there are lots of fireworks, and the fireworks went on for the entire week, and then Sunday night it was extreme. That Sunday night was so traumatic for me that I literally had to go to the doctor the next day.
How has it changed you as a social worker and advocate?
Before 2019, I focused on direct practice working with families, but was never really an advocate or activist. I didn't think that was in my wheelhouse. But this incident made me realize that there had to be more to my career as a social worker. When they made me stand there in the nude with all the body cams recording, they exposed me, so I was determined that if I'm going to be exposed in this way then I'm going to take charge of the situation and tell my story my way. So now I have shifted to where I need to advocate not only for myself, but for all those other families here in Chicago and around the world who have these same experiences.
As social workers we can imagine the impact of a raid on an individual or a family, but is there an effect on the entire community?
There absolutely is an effect on the community. When I think of my situation on that particular night, the way the police arrived at my home, and there were police everywhere, my neighbors also experienced that. I have always been a law-abiding person, I've been intentional with who I interact with and they way I conduct myself, because that's the way my grandma raised me. But it's also part of who I am as a social worker; my image in the community carries weight in how I work with families. After the raid, so many people have reached out to tell me how hurt they were to see that happen, because if it can happen to someone like me, then it can happen to any of us. And that does have an effect on the community.
What kinds of policy reform do you hope to see enacted that can prevent or minimize such experiences?
There is a group of women and a few men on the Chicago City Council pushing an ordinance called the Anjanette Young Ordinance, which lists all the things that happened in my situation and puts reform in place to prevent it from happening to other families. For example, the ordinance talks about due diligence on the front end of a search warrant, and who's involved in approving the warrants and making sure the information is accurate before a judge even signs off on it. Also, once the warrant is signed by a judge, asking that police try to conduct warrants in the least harmful way to the family, asking that they take into account who is in the home, such as knowing if there are children in the home, and preparing for that. We understand police work is hard and sometimes it is necessary for them to conduct a search warrant, but they need to do it in a way that does not leave behind all the harm and trauma.
After the raid, so many people have reached out to tell me how hurt they were to see that happen, because if it can happen to someone like me, then it can happen to any of us. And that does have an effect on the community.
Would you consider excessive use of force and other forms of police violence to be a public health issue?
It is definitely a public health issue because we already know that mental health services in our communities are lacking. Then you have police officers traumatizing families in this way, and there is no access to the needed services. I often say that if you had to have a perfect scenario for dealing with the aftermath of this, mine was the perfect situation. I had support from various sources. But I know it doesn't work out this way for everyone, especially when in some communities there are waitlists of up to eight months to access mental health services.
What advice do you have for practitioners to support people who have experienced this kind of event?
Sometimes we just have to step up. As social workers, counselors, and mental health providers we have a responsibility to step up and provide support wherever we can. We work in these arenas as professionals, but we need to volunteer where we know the resources are lacking. I'm only one person, but if each of us gave a little bit back to the communities that are resource-stricken, it would make a huge impact. Even if only offering a space for a support group or volunteering at an agency.
What role can social workers play in advocacy around these issues?
Social workers can speak up in their personal lives and personal circles, and can join advocacy groups to advocate for policy change. We need policy change, not just an executive order but permanent policy that can guide and hold police officers accountable. I want advocates to learn from my experiences and share it in their personal and professional arenas.
Has your social work education helped you in responding to all of this?
When I was in the MSW program at Jane Addams my concentration was Mental Health, so I've had training with mental health and diagnosis. My social work education and knowledge helped me understand the trauma I experienced. It also helped me understand that I did need to reach out for professional help. So many people have these kinds of experiences, and seeing a therapist is not the first thing they think about, but for me it was the first thing I thought of.
If you had to pick one thing, what was the most important thing you learned at Jane Addams?
I would have to say the ability to speak up about what has been happening to me. It was such a hard decision; I was never the kind of person who did public speaking or was comfortable in front of cameras. But in my time at JACSW I received so much support, and I tell people that all the time. I learned things that have helped me through this process and have made me a better advocate.
Sometimes we just have to step up…I'm only one person, but if each of us gave a little bit back to the communities that are resource-stricken, it would make a huge impact. Even if only offering a space for a support group or volunteering at an agency.
What was one of your favorite things about your time at Jane Addams?
I appreciate the way the program was set up in cohorts, because it's like you get a support team the entire time you are in the program. There are people who were in my cohort that I am still in touch with, and because of that I have relationships with some really amazing people.
What advice do you have for people considering a career in social work?
Think deeply and reflectively about why you want to do the work. Social work is an amazing profession, but also very hard in that it tugs on your feelings, your empathy, and your compassion for others. A lot of people say "this happened to my mom, or that happened to my dad, so I want to give back." Those are great motives, but when it comes to social work you have to think deeply about it, and whether or not you can do it for 20 years. I caution people not to go into social work if they are unsure, because they can end up doing more harm than help, both to themselves and to their clients.
Part of Café Social Work's mission is to increase representation of minority and underrepresented individuals in the field. In your experience, what is the current state of minority representation in social work?
What's missing is men and especially African American men, and we understand that with young men of color, their first experience with a social worker will often be that it is a white female. We have to think about how that might impact their perception of accessing support. One of my long-term goals is to develop a scholarship program that will send young men of color to school for social work, with the caveat that they will come back and serve in their own community. We know that is missing for our young men, that there is not enough support for them in our communities. Young people or families will connect more with people who look like them, who understand them, their culture, and have sensitivity around why they may be hesitant to access services.
Is there anything you'd like to add to our conversation?
I think the issue of invisibility is important to talk about, because so much of what happened to me was about being invisible. I was invisible to those officers in my home that night, and I feel invisible to the City because of its lack of response to my legal team. And so many people have the same experience of feeling invisible. I am not invisible, you are not invisible, and we all deserve to be treated with dignity and respect, regardless of our skin color or socioeconomic status.
Modified on October 27, 2021