JACSW Alumnus Co-Leads a Class in Rwanda
JACSW alumnus David Simpson, PhD '11, is Assistant Professor of Social Work at Pacific Lutheran University (PLU) in Tacoma, WA. While at UIC, he was a clinician at the Institute for Juvenile Research, where he treated individuals with anxiety disorders across the life-span. He also served as Program Evaluator for the Urban Youth Trauma Center, working to improve the lives of youth and families affected by community violence who are experiencing traumatic stress and co-occurring conditions.
Dr. Simpson was an Adjunct Professor at JACSW, and taught mental health practice and research classes to students in the mental health specialization.
We interviewed Dr. Simpson about his work with youth, his time here at JACSW, as well as a course that he co-led that took PLU students to Rwanda to study genocide and memorialization.
How was your work with children and adolescents informed by your social work education?
Primarily by learning to meet people where they are and starting from there. That was a big part of my work with children and adolescents, and their families. And remembering that people really are their own expert, and engage in behaviors that protect them, and that is where I need to start my work with them. My job with youth was to use the evidence to help them see that there could be other ways of dealing with their symptoms.
What are effective ways of addressing the mental health needs of young people in marginalized communities?
Adapting mental health interventions to meet the needs of these youth is important. Practitioners need to make sure that the youths' symptoms are addressed from many angles, for example, at home, in the community, and at school; to see the youth as part of a system and intervene with all systems that are necessary.
At PLU you co-led a course that took students to Rwanda; please tell us about that.
The title of the course was "Genocide Memorialization and the Future of Rwanda." The purpose of the course was to help students learn about the importance of memorialization and what direction the country is headed, within the context of this memorialization. As someone with a history of working with individuals with trauma, my co-faculty member and I both wanted to make sure that we discussed how Rwandans were coping with the nationwide trauma.
What did the students experience while in Rwanda?
A lot! Our experiences ranged from visiting several genocide memorials, to observing how the country has memorialized this horrific event, to hearing testimonies from survivors. The testimonies included incredible stories about survival, devastating loss and trauma.
In a Reconciliation Village, we heard how perpetrators of the genocide were now living next to and working with survivors of the genocide, and particularly the family members of those who had been murdered during the genocide. Our group heard and talked about forgiveness quite a bit. There were times when we struggled to fully integrate the meaning of this forgiveness.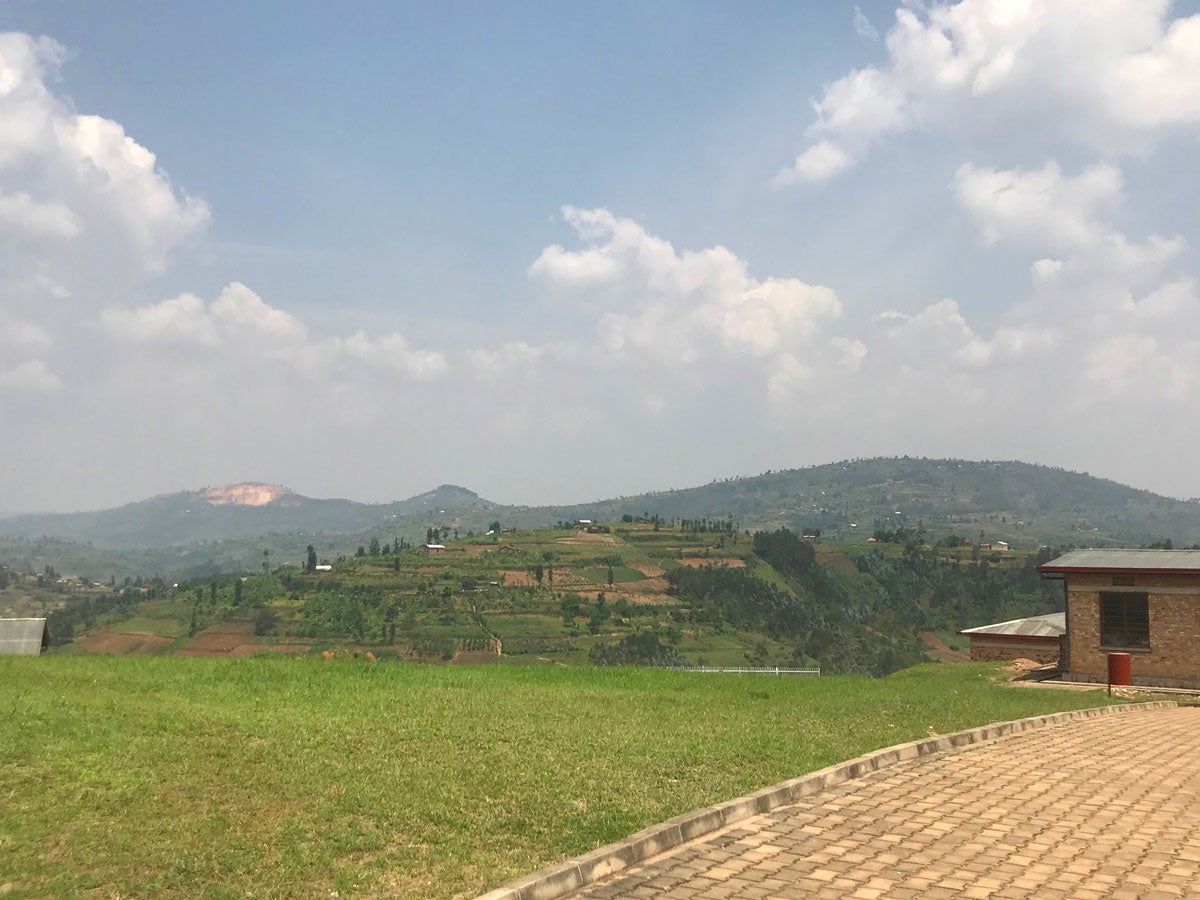 The Murambi Genocide Memorial Centre, situated near the town of Murambi in southern Rwanda.
We heard from the kindest, humblest man who, during the genocide, saved over 400 adults and children at an orphanage his family ran in Kigali. They hid in the ceiling of the orphanage, only to come out after dark. To hear his story was truly a gift. One of the youth he saved was with us, and it was clear that the two are now connected forever. This was an experience none of us will forget.
There were other wonderful moments when we were immersed in the culture of Rwanda, trying to learn words and phrases in the native language of Kinyarwanda. It was important that we remembered that we were guests in Rwanda, and that we needed to respect the culture as much as possible.
We visited a large market on several occasions. In Rwanda, in general, you bargain for what you will pay for certain goods. There was a lot of excitement in engaging in this ritual at the market! And we learned about traditional dances that were performed for us when we entered certain communities.
Our group also met with about 10 women in a basket cooperative, who make baskets and other crafts to sell. We went along with them to work in the field, feed their livestock and walk nearly a mile to fetch water. One of these women welcomed us into her home as though we had known her for years. Their generosity was overwhelming. It was only a glimpse into the life of Rwandans, but also a clear picture of how much we as Americans take for granted.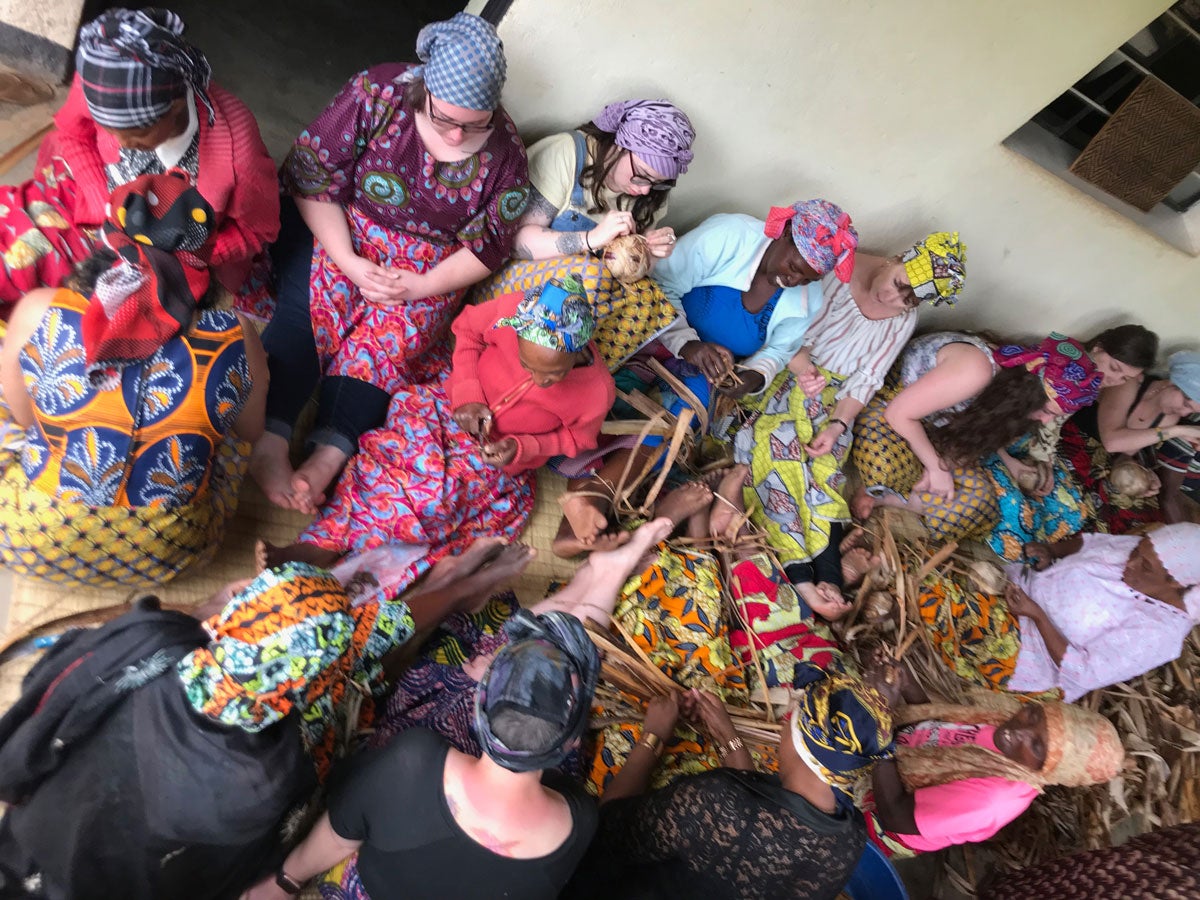 What originally drew you to social work, and what continues to motivate you?
Ah! I wanted to connect with people. I wanted to serve those who are in marginalized, oppressed groups to ensure that their needs are being met as easily as mine are. I enjoy working with people to find solutions to problems, not just listen to their problems. Unfortunately, just listening to problems is what many people believe social workers do.
Now that I'm on faculty in a small social work department, what continues to motivate me is seeing all the students who want to enter this profession. It is really great to see their excitement for service and to help them learn new skills that they'll use with their clients. I'm excited that my experiences with clinical work, research, and teaching at UIC have helped me in my teaching and my work with students.
Are there other ways JACSW prepared you for your life as a professor of social work?
So many ways! I worked with so many great faculty members at JACSW who challenged me to keep growing and learning, and were also great models in how to mentor students. I had the opportunity to teach as an adjunct professor, which prepared me for a full-time faculty position. The experience solidified my passion not only to teach, but to teach future social workers. The college really helped me grow and develop as a social worker, and I am truly thankful for that opportunity.
What was your most memorable experience at JACSW?
Graduation and my cohort! Also, working closely with faculty who want you to succeed.
What advice do you have for people thinking about getting their PhD?
Do it! Just make sure it is something you are determined to do 110 percent. If you give any less than that, it may be a tough few years!
Modified on October 17, 2019