Quick Response by Alumnus Jenifer Nyhuis, MSW '12, Saves Lives
Section 1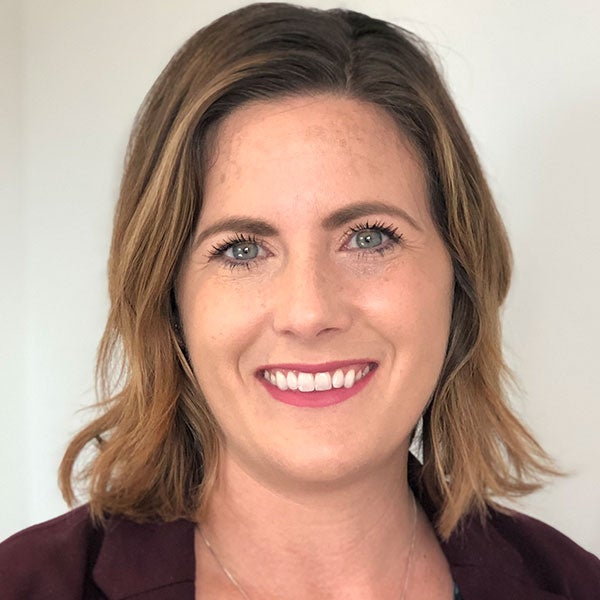 Alumnus Jenifer Nyhuis, MSW '12, quickly rose through the ranks in the healthcare field to become, at the age of 34, CEO of Aurora Vista Del Mar, a behavioral healthcare hospital in Ventura, CA that serves Ventura and the two surrounding counties. Little did she know that within three years of assuming this role she would be faced with two challenges that most CEOs would not face in a lifetime – the devastating Thomas Fires in 2017 and now the coronavirus pandemic. Through each crisis, her leadership and fast thinking have saved the lives of patients and demonstrated the care and dedication that exemplify alumni of Jane Addams College of Social Work.
Jenifer lives her values as a social worker and believes strongly in the importance of creating collaborations and partnerships in service to the community. "The hospital's delivery model is service first," she says. "Mental health issues do not discriminate, and there is no individual we don't provide care to. We therefore serve a wide range of socio-economic backgrounds, from persons who are homeless to those with higher socio-economic status."
The partnerships Jenifer formed with hospital CEOs, health clinics, psychiatrists, businesses, and government agencies, proved very beneficial to her when navigating through the Thomas Fires and now the COVID-19 pandemic. She says, "It's critical to form these partnerships prior to a crisis."
Six months after assuming the CEO role at Aurora Vista Del Mar, the Thomas Fires burned through Ventura County. Within four hours of being identified as a small fire 30 miles away from the facility, the fire was visible by staff at the top of a nearby ridge. Notified by her staff at 10:30 p.m., Jenifer hurried to the hospital campus, called 911, and learned that there were no first responders available to help. She immediately decided to evacuate the 70 patients and 25 staff. A caravan of staff-driven cars moved the patients to safety, placing them in other behavioral hospitals within hours. The fire later consumed the administration building and a patient care building, causing enough damage that the hospital was forced to close, threatening its existence.
Remarkably, Jenifer was able to return Vista Del Mar Hospital to operation in only 10 months, working with local and state politicians, regulators, construction teams, banks, health care professionals and more. It was an incredibly fast turnaround considering California's regulation-heavy environment, and one for which she received numerous accolades and state awards including the Šimanek Distinguished Service Award, California Hospital Association (2019) and Woman of the Year, California 19th Senate District & 37th Assembly District (2019).
Section 2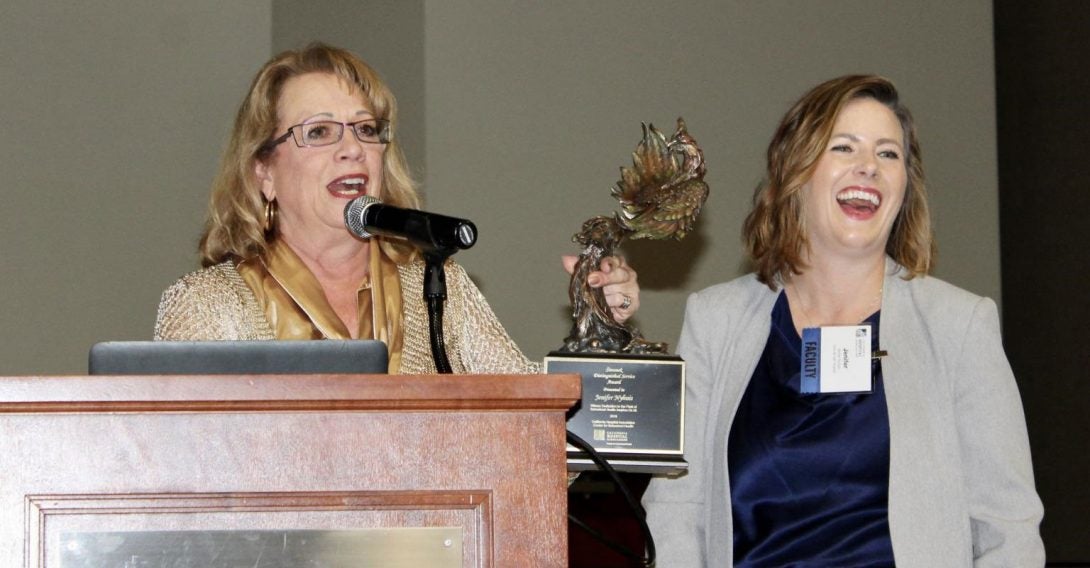 Jenifer said that her JACSW degree prepared her to tackle such a complex public health problem by using a multi-faceted approach that identified what was important to stakeholders. She used that information to develop a plan to rebuild the hospital and continue serving the needs of Vista Del Mar's patients and the community as quickly as possible.
Jenifer says that her experience at UIC was an important part of how she achieved a distinguished career serving vulnerable populations. "I had such a great experience at UIC, especially with my field placements. During my time at the Chicago Coalition for the Homeless, I was inspired to see social work in a new way. My field advisor, Judy Coates, was critical in building my confidence, helping me to realize my desire to work in a macro-level position in the field. She connected me to my first job outside of college, working as a Manager at the Salvation Army in Englewood (Chicago)," says Jenifer. "This job was a great match for me and fueled my passion for macro-level social work. All of this combined with the support and sacrifice of my loving wife, Veronica, enabled me to fully pursue the passion I have to make a difference in the world for many."
Jenifer is attacking her most recent challenge, the COVID-19 pandemic, with the same determination, professionalism, and foresight she has exhibited throughout her career. As of this writing, Vista Del Mar is coronavirus-free.
She started in mid-March by screening everyone who entered the hospital campus, staffing the screening station for the first three weeks with nursing students in collaboration with the California State University Channel Islands Nursing Program. She immerdiatley instituted safe practices such as social distancing, increasing the number of hand sanitizers, conducting an inventory of supplies, and adjusting service delivery to include tele-health for their intensive out-patient and partial hospitalization programs.
Again in this crisis, Jenifer's relationships with the CEO's of area hospitals and staff at the Hospital Association of Southern CA proved essential in helping identify the mental health needs of the community. Through a series of calls and meetings, these groups determined that fewer people were coming to their facilities for mental health care because they were afraid to go into emergency centers due to COVID-19. In response, when individuals called emergency centers and hospitals with mental health concerns, staff encouraged them to go directly to Vista Del Mar. The impact was immediate, with a significant increase in the number of patients accessing mental health care at Vista Del Mar in the following weeks.
When reflecting on how to lead through a crisis, Jenifer says that a leader must be calm and understand that your words and demeanor are important and impactful. "Take the time you need to internally reflect, take care of you own personal needs, and deliver a message of expertise with confidence and empathy," she says. "You don't have to have all the answers yourself, but make sure you have people you trust to provide the expertise needed." She emphasizes, "You must have a strong team underneath you who understands the role that you play and trusts and supports you throughout the changes and process."
Modified on June 10, 2020