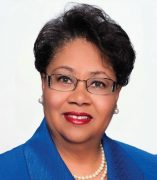 Annette Johnson, MSW
Clinical Associate Professor
Pronouns: She/Her/Hers
Contact
Building & Room:
4216 ETMSW
Office Phone:
Email:
About
Professor Johnson has over twenty years of experience in school administration and school leadership. She provided the overall direction, leadership and supervision for a staff of more than 400 school social workers that provided diagnostic and clinical services to students in a large urban school system. She developed and initiated innovative school-based programs and services including School-based Brief Treatment as well as Conflict Resolution and Dating Violence Programs. She worked to implement system-wide professional development opportunities for school social workers to enhance their clinical skills as well as prevention and intervention services for vulnerable populations.
Professional Interests:
Children's Mental Health
Social and Emotional Learning
Clinical Practice in Schools
Teaching Experience:
SocW 588 Practice III: School Social Work
SocW 589 Practice IV: School Social Work
SocW 551 School Social Work Policy
Selected Publications
Owens, C. L., Johnson, A. H., & Thornton, A. (2021). Addressing Equity in Schools: Youth Participatory Action Research and Transformative Social and Emotional Learning during COVID-19. Children & Schools. https://doi.org/10.1093/cs/cdab029
Grumbach, G., Johnson, A., Engel, E., & Campos-Moreira, L. (2021). Virtual Termination amid COVID-19: Strategies for School Social Work Interns and Field Instructors. Children & Schools. https://doi.org/10.1093/cs/cdab008
Johnson, A., McKay-Jackson, C., & Grumbach, G. (2018) Critical Service Learning Toolkit: Social Work Strategies for Promoting Healthy Youth Development. Oxford University Press.
Johnson, A. & McKay-Jackson, C. (2016). The School Social Worker: Supporting Academic Success through Social Emotional Learning. In L. Villarreal Soso, L., T. Cox, M. Alvarez, School Social Work: A National Perspective on Practice in the Schools Work. Oxford: Oxford Press
McKay-Jackson, C. & Johnson, A. (2015). Critical Service Learning: Implications for Social Emotional Development (Ch.47). In O. Delano-Oriaran, M. Parks, & S. Fondrie (Eds.) Service-Learning and Civic Engagement: A Sourcebook. Sage Publishers.
Johnson, A., Nealis, L.K, (March 2014) Maximize the Potential of your School Social Worker, Principal Leadership Vol. 14, Mo. 7.
Johnson, A., "The Changing Role of the School Social Worker" National Association of Social Workers Illinois, 2012
McKay, C., Johnson, A., (2010) Service Learning: An Example of Multilevel School Social Work Practice, School Social Work Journal VOL. 35 No. 1.
Education
BA, Jackson State University
MA, Roosevelt University
MSW, University of Illinois at Chicago
Professional Memberships
National Association of Social Workers
School Social Work of America
Illinois Association of School Social Workers
Academy of Certified Social Workers
Illinois Children Mental Health Partnership; Co-Chair School Policy Committee
Illinois Department of Financial and Professional Regulations; Board Member