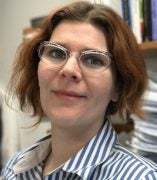 Jodie Bargeron
Visiting Research Specialist
Contact
Address:
1640 West Roosevelt Road, Suite 534, Chicago, IL 60608
Office Phone:
Email:
About
Before returning to school to get her MSW, Jodie Bargeron served in the Peace Corps. She has since worked as a direct service provider, as a support group facilitator, and at the program and policy levels.
In 2014, Jodie joined the staff at the Jane Addams Center for Social Policy and Research as a mental health research specialist. She enjoys practicing social work as a researcher and plans to study mental health through the lifespan, focusing on mid-life and older age. She is currently enrolled in the PhD program at Jane Addams College of Social Work.
Education
BSW, Grand Valley State University
MSW, Grand Valley State University