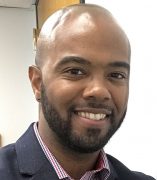 Branden A. McLeod, PhD
Assistant Professor
Contact
Building & Room:
4218 ETMSW
Office Phone:
Email:
About
Dr. McLeod has held several professional social work positions including co-facilitator for Fatherhood Groups at the Chesapeake Detention Center, Associate Director & Policy Analyst with the Maryland Center for Economic Policy, Chair of Maryland Alliance for the Poor, Government Affairs Associate with the Child Welfare League of America, and as a Jail-Diversion Case Manager with You Are Never Alone (YANA), Inc.
Professional Interests:
Fatherhood among Black fathers and families
Reentry into society from incarceration
Criminal justice reform
Teaching Experience:
SocW 531 Policy II: Organization and Community Practice
SocW 420 Social Welfare and Social Policy I
SocW 591 Social Policy Analysis and Development
Selected Publications
McLeod, B.A., Johnson, Jr., W.A., Cryer-Coupet, Q.R. & Mincy, R.B. (2019). Examining the longitudinal effects of paternal incarceration and coparenting relationships on sons' educational outcomes: A mediation analysis. Children and Youth Services Review, 100, 362-375.
McLeod, B.A., & Gottlieb, A. (2018). Examining the relationship between child support arrears and incarceration among low-income nonresident fathers. Children and Youth Services Review. doi: 10.1016/j.childyouth.2018.09.022
Van Sluytman, L.G., Torres, D., McLeod, B.A., & Coleman, D. (2018). When They Return: Framing the argument for inclusion. Journal of Human Rights and Social Work. doi: 10.1007/s41134-018-0070-7
McLeod, B. A., & Bonsu, J. (2018). The benefits and challenges of visitation practices in correctional settings: Will video visitation assist incarcerated fathers and their children? Children and Youth Services Review, 93, 30-35. doi: 10.1016/j.childyouth.2018.07.004
McLeod, B. (2018). Book Review of Fatherhood in American: Social Work Perspectives on a Changing Society by Carl Mazza and Armon R. Perry. Urban Social Work, 2(1): 96-100.
McLeod, B.A., Gilmore, J., Daughtery, L., G., & Jones, J.T. (2018). A nonprofit organization's approach to cognize community responses to historic and perpetuated structural racism in Baltimore city. Journal of Public and Nonprofit Affairs, 4(2). doi: 10.20899/jpna.4.2.223-240.
McLeod, B. (2017). Fathering Despite Perpetual Penalties: Examining Fathers' Involvement amidst the Collateral Consequences of Previous Criminal Justice Involvement. Urban Social Work, 1, 2, 144-164.
McLeod, B.A. & Tirmazi, M. T. (2017). Paternal dimensions and complexities: Understanding the relationship between parental dyads and fathers' involvement among Black fathers with criminal records. Journal of Family Social Work. doi. 10.1080/10522158.2017.1283653
McLeod, B.A., Gilmore, J., & Jones, J. (2017). Solutions to structural racism in Baltimore City: One organization's community-engaged approach in the aftermath of civil unrest. Social Work, 62(1), 77-79. doi: 10.1093/sw/sww067.
Egleton, M. C., Banigo, D. M., McLeod, B. A., & Vakalahi, H. F. O. (2016). Homelessness among formerly incarcerated African American men: Contributors and consequences. Contemporary Social Science, 11(4), 403-413. doi:10.1080/21582041.2016.1258590
Editorial Reviews
Social Work Journal
Journal of Offender Rehabilitation
Journal of Family Social Work
Journal of Black Studies
Education
BS, Lincoln University
MSW, University of Maryland
PhD, Morgan State University
Professional Memberships
Council on Social Work Education
National Association of Social Workers
Society for Social Work Research