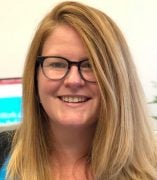 Kalen Flynn, PhD
Assistant Professor
Contact
Building & Room:
4424 ETMSW
Office Phone:
Email:
About
Dr. Flynn's practice experience includes working as a case manager with at-risk adolescents, as an advocate for juvenile justice reform, and as a researcher at the American Institutes for Research. She has worked with juvenile justice leaders across the country at all levels of government.
Professional Interests:
Reducing exposure to violence among adolescents and young adults
Addressing symbolic, structural, and interpersonal violence
Integrating GIS and qualitative research methods
Teaching Experience:
SocW 420 Policy I: Social Welfare Policy and Services
Research:
Youth development
Impact of exposure to violence and neighborhood conditions
Selected Publications
Gottlieb, A. & Flynn, K. (2021). The Legacy of Slavery and Mass Incarceration: Evidence from Felony Case Outcomes. Social Service Review, 95(1). https://doi.org/10.1086/713922
Flynn, K. & Mathias, B. (2020). "I would say it's alive": Understanding the social construction of place, identity, and neighborhood effects through the lived experience of urban young adults. Qualitative Social Work, 19(3) 481–500. doi: doi.org/10.1177/1473325020911673
Flynn, K., Mathias, B. & Wiebe, D. J. (2020). Investigating the (in)visible: Piloting an integrated methodology to explore multiple forms of violence. Journal of Community Psychology. doi: dx.doi.org/10.1002/jcop.22349
Flynn, K.; McDonald, C.; Dalonzo, B.; Tam, V.; & Wiebe, D. (2018). Violence in rural, suburban, and urban schools in Pennsylvania. Journal of School Nursing, 34(4) 263-269.
Flynn, K.; Branas, C.; Richmond, T.; & Wiebe, D. (2017). Neighborhood social trust and perceptions of safety during daily activities. Injury Prevention. Published online first: 07 October 2017. doi: 10.1136/injuryprev-2017-042444
Wiebe DJ, Flynn K, & Branas CC. (2017). Letters to the editor in response to studies of guns in the home and homicide and suicide.  Injury Epidemiology, 4(1), 1-8.
Campie, P.; Pakstis, A.; Flynn, K & McDermott, K. (2015). Developing a coherent approach to youth well-being in the fields of child welfare, juvenile, justice, education, and health: A systematic literature review. Families in Society, 96(3) 175-184.
Education
BS, Saint Joseph's University
MSW, University of Pennsylvania, School of Social Policy & Practice
MSSP, University of Pennsylvania, School of Social Policy & Practice
PhD, University of Pennsylvania, School of Social Policy & Practice
Professional Memberships
Society for Social Work Research
Society for the Advancement of Violence and Injury Research