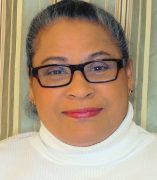 T. Chedgzsey Smith-McKeever
Visiting Senior Research Specialist
Contact
Address:
1640 West Roosevelt Road, Suite 534, Chicago, IL 60608
Email:
About
Dr. Chedgzsey Smith-McKeever has developed, designed, implemented, executed, and reported on studies that are critical to improving the efficacy of social welfare policy and services.  Her experience encompasses developing and implementing surveys; recruiting ethnic minority research participants; conducting research; gathering, analyzing, and interpreting data into cohesive findings; presenting at conferences and publishing peer-reviewed articles.
As a social work educator and researcher, Chedgzsey brings an understanding and passion for social welfare policy issues, particularly those that affect mothers and children. Throughout her practical and academic experiences in social work, Chedgzsey has placed the highest priority on evidence-based practices in all aspects of social welfare policy and practice with an emphasis on equitable access to quality education, trauma-informed health and mental health care, and child welfare services.
Education
PhD, University of Texas at Austin
MSW, University of Southern California
BA, University of California at Irvine