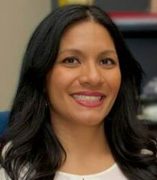 Sheila Yousuf-Abramson
Doctoral Student
About
Sheila began the PhD program in Fall, 2018. She is an alumnus of Jane Addams and a Licensed Clinical Social Worker (LCSW) with 12+ years of social service experience in child welfare, maternal health, disabilities, mental health, bereavement, and higher education.
Currently, she is the Director of Field Education and Adjunct Professor at Dominican University's School of Social Work.
At JACSW, she teaches master level courses including Field Practicum, Practice with Individuals and Families and Mental Health. In 2017, she received the Outstanding Adjunct of the Year award.
Her research interests include grief support for urban, adolescent youth and preparedness of new social workers entering the field post-grad.
Sheila is supported by a wonderful family and two beautiful kids and utilizes self-care through working out, audiobooks and music.