Despite Numerous Missteps, JACSW Alumni Has Had Impactful Life
Social work has always been a part of Jerry Watson's life.
Growing up in Chicago's North Lawndale neighborhood, Watson, PhD, assistant professor of social work at the University of Memphis and recipient of a master's degree from the Jane Addams College of Social Work, spent a significant part of his youth at the Sears YMCA. While Watson was having fun with his friends, he was also learning from elders that would help shape his life.
"During the 1950s, '60s and '70s most of the staff and administrators at the 'Y' were social workers," said Watson, whose community development initiatives on Chicago's south and west sides have had a lasting impact. "From the age of nine until today I've had mentors who have been social workers."
His formative years at the YMCA provided Watson with lifelong experiences. He learned the importance of service and diversity, teaching skills, group facilitation, grass roots door-to-door organizing, fund development, and the fundamentals of leadership. As he grew older, Watson planned and led membership drives, social activities, basketball tournaments, and coached basketball teams. His love of sports and passion for helping others led him to become an "attached worker" at the facility, planning and supervising recreational sports programs for youth who were gang affiliated.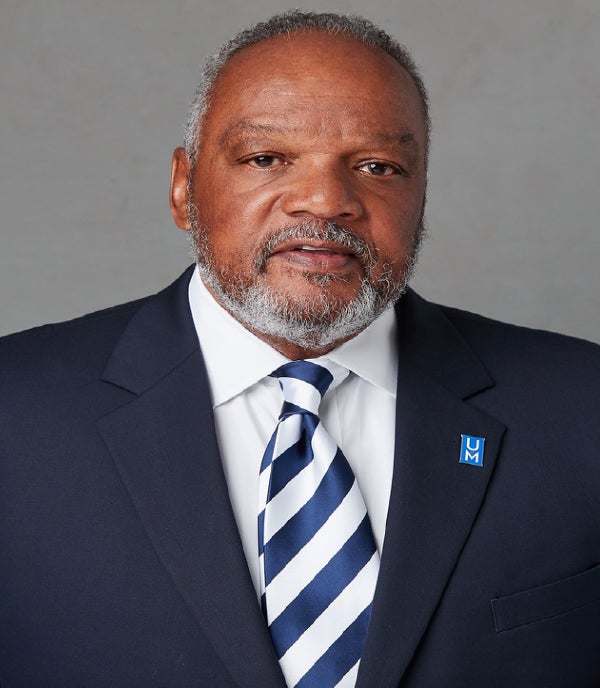 Following Watson's attendance at several colleges and technical schools and prior to his completion of an undergraduate degree at Northeastern Illinois University, he served as a program director for court mandated drug addicts at Chicago's Human Resources Development Institute, a long-term residential treatment facility. He also simultaneously worked as a drug counselor at Advocate Christ Medical Center in Oak Lawn, Ill., and as the director of a community-based Alcohol, Tobacco, and Other Drugs Prevention program.
Watson felt his work was fulfilling, but he believed he could do more by furthering his education. Enrolling in the JACSW's master's degree program was the experience he was seeking, calling his time at UIC "a series of incredible learning experiences." During his field practicum, he participated on a team that planned and led a culturally centered personal development project for high school and college students. The assignment included providing individual and group counseling, mentoring, entrepreneurship, fund development, and rites of passage experiences – ending with a trip to West Africa.
His first international trip soon led to a second. A classmate of Watson's learned of his experience abroad and invited him to join a team that was traveling to the United States Virgin Islands, an area that had just been ravaged by a tropical storm. He spent a month traveling between St. Thomas, St. John, St. Croix and Puerto Rico, providing counseling to children and families impacted by the natural disaster. The opportunity allowed Watson to acquire new knowledge within the social work field while participating and practicing in a service project.
Working at various positions in communities throughout the Chicago area gave Watson valuable life lessons, while his courses at the JACSW taught him "theories and methods to guide my practice, while also learning about the ethical values that grounded social work." Watson's intent was to remain silent in class, listening closely to his instructors and classmates and absorbing as much knowledge as he could. But his work within the college did not go without notice. He received a student award for his outstanding service to children and families, a passion of his.
Children are often voiceless, considered too inexperienced to provide direction into their own lives. Watson wants them to be heard. In 1996 while at UIC, he recruited more than 40 students to march at an on-campus rally to highlight the importance of child safety. Two weeks later he rented a bus and enlisted more students to travel to Washington to participate in the "Stand for Children March." The group was part of 300,000 people who attended the rally outside the Lincoln Memorial, making it the largest demonstration in support of children in U.S. history, Watson said.
During the second year of his master's program, Watson was enrolled in a course on organization and community practice taught by Michael Bennett, PhD, an assistant professor in the College of Social Work and the College of Public Affairs and Urban Planning. Watson was first introduced to Bennett in 1970. In addition to working with the West Side Organization and the Woodlawn Organization in helping minorities secure employment on construction crews and utility companies, Bennett was completing his doctoral work at the University of Chicago.
"I was convinced that I knew a lot about organizations and communities," Watson said. "Well, Dr. Bennett knew everything that I knew and five times more. I soaked up everything I could from him. I was saddened at my graduation that I would no longer have access to his counsel."
Following his graduation from the JACSW in 1997, happenstance led Watson to his next venture. Learning from a newspaper article that Bennett had been hired as executive director at DePaul University's Monsignor John J. Egan Urban Center, Watson called to congratulate his old friend and the conversation turned into a job. Bennett said he had been searching for his former student to discuss an opening as the Center's director of neighborhood partnerships.
Under Watson's direction as the director and Bennett's guidance, he cultivated relationships that brought much-needed housing to Chicago's West Humboldt Park neighborhood. As partner, planner, knowledge broker and resource connector, 10 new homes were constructed. He was also instrumental in renovating about 20 additional homes, and planned and promoted an 88-unit complex for senior citizens. Bennett's mentorship supported Watson's completion of an MBA degree and launched his higher education teaching career at DePaul in both the sociology and psychology departments.
Watson is relatable to the people he serves. His research of more than 20 years has been conducted in communities across six cities; he was shot once and stabbed another time in the streets; was incarcerated in two Illinois state prisons for just over a year and served two additional years in county jails in three states. He was facing 40 years in prison for his last offense – theft of federal property. He has also been homeless in three cities.
JACSW played a large role in my life. I've been fortunate to have many mentors in my life, but none more steadfast than Dean (Creasie Finney) Hairston.
"That was enough for me to consider a lifestyle change," Watson said.
Since leaving Chicago, Watson has received his doctorate degree in Urban Higher Education from Jackson State University, where he was an assistant vice president and chair of Graduate Social Work programs. He also taught at Mississippi Valley State University, the University of Mississippi, and Rust College. For the past five years, he has served as assistant professor at the University of Memphis School of Social Work. A teacher since the age of 16, when he taught swimming lessons at the YMCA, Watson can't picture himself outside of the classroom.
"JACSW played a large role in my life. I've been fortunate to have many mentors, but none more steadfast than Dean (Creasie Finney) Hairston," Watson said. "She's so knowledgeable about social work education and community. She consistently demonstrates the ability to relate to people of all levels in society. She is honest and open but always thoughtful. She consistently teaches me how to be diplomatic and human at the same time. I will always have fond memories and value my time at the Jane Addams College of Social Work."