Alumni Events and Awards
Alumni & Friends Celebration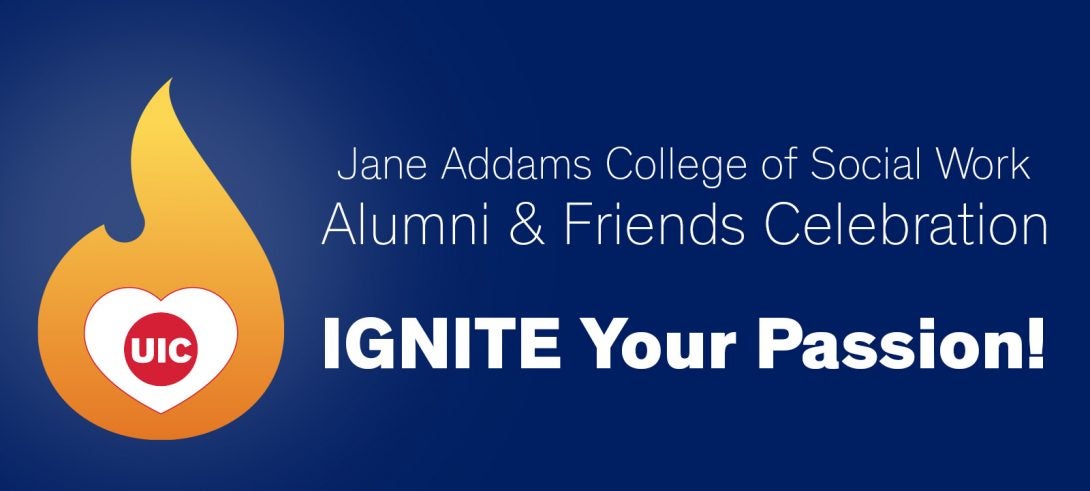 Save the Date! Alumni & Friends Celebration: Friday, April 30, 2021
We're looking to the future and a time when we can once again join colleagues and friends to ignite our shared passion for Jane Addams College of Social Work.
At the 2021 Alumni & Friends Celebration, we will honor the individuals who have made significant contributions to the advancement of social justice – the recipients of our 2020 Social Justice Ally and Alumni Awards who were to have been feted at the 2020 Celebration cancelled by the COVID-19 pandemic, shown below.
Check back for more information on the program and festivities as plans are confirmed.
Guest Speaker and Jane Addams Social Justice Ally Award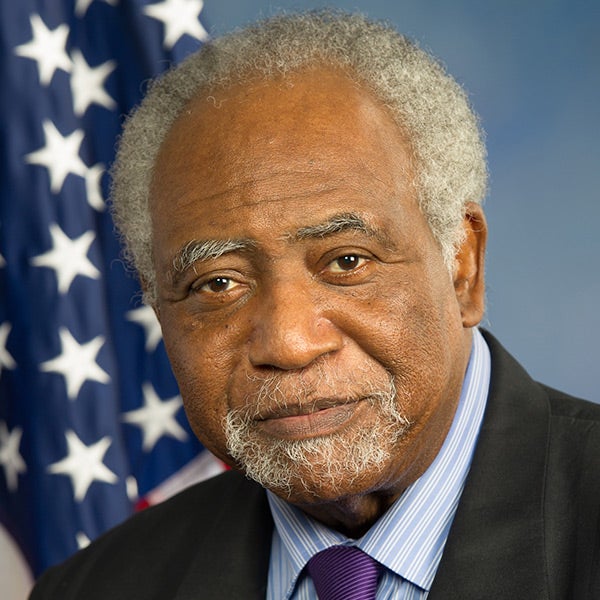 Honorable Danny K. Davis, Member of Congress, 7th District. Congressman Davis has distinguished himself as an articulate voice for his constituents and as an effective legislator able to move major bills to passage. He has developed a unique and energetic style of communication and interaction with his constituents setting up dozens of advisory task forces to consider significant questions of public policy.
He hosts several weekly television and radio shows which feature audience call in and produces regular written reports to every household in the district. In addition, he maintains weekly office hours in the district and is widely sought after as a speaker at conferences and events.
In the 116th Congress, Representative Davis is resolutely committed to preserving our democracy, protecting social security, maintaining our nation's gains in civil and human rights, women's rights, voting rights, protection of the environment, consumer and labor protections, reducing inequality, and ensuring quality, affordable health care for all, while maintaining his long-time focus on issues of job creation, poverty, health care, education, youth and criminal justice reform.
Jane Addams Distinguished Alumni Achievement Award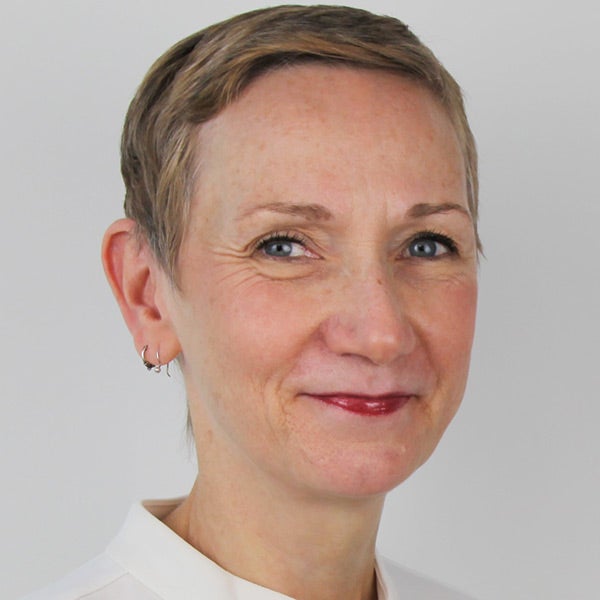 Maureen Rigney, MSW '94, has been with the organization now known as GO2 Foundation for Lung Cancer since 2004. Currently Director of Support Initiatives, Maureen works to identify and meet evolving community needs through devising strategies, developing collaborations, and leading initiatives. She has a special interest in lung cancer stigma and has collaborated on a number of stigma studies, many of which are published and all of which have been presented at national and international conferences.
GO2 Foundation has also given Maureen the opportunity advocate for issues at the macro-level, through presenting at Congressional Briefings and guiding advocates on Capitol Hill visits with their elected representatives. She represents GO2 Foundation and the lung cancer community on a variety of boards and committees, including the Global Lung Cancer Coalition. She is a member of the Association of Oncology Social Workers and serves on their advocacy committee.
Jane Addams Rising Alumni Award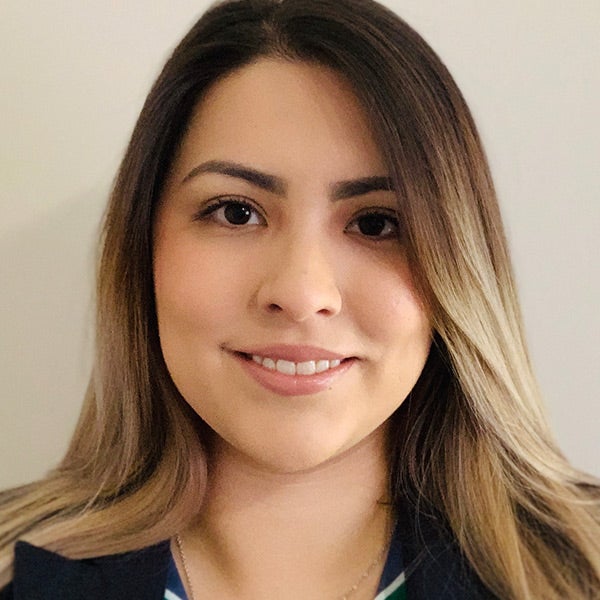 Lissette Lucero Lopez, LCSW, CADC, MSW '14, has worked at Cook County Jail for six years, where she has applied her clinical skills and her passion for justice in working with incarcerated women, providing needed services and structure within the jail, and reducing recidivism within the community.
In 2019, Lissette was promoted to the role of Clinical Program Manager of a women's residential substance use treatment program, working with detainees who are pregnant and establishing contact visits between incarcerated mothers and their children. The program was originally run by a contract agency, but under her management has developed into a source of genuine treatment and support for women caught between criminal activity and drug addiction.
5-Year Graduation Anniversaries
Additionally, there will be special recognition for alumni with these 5-year graduation anniversaries: 1970, 1975, 1980, 1985, 1990, 1995, 2000, 2005, 2010 or 2015.
Sponsorships and Ticket Sales
Sponsorships and Tickets are not yet available for the 2021 Alumni & Friends Celebration.
2020 Sponsors and Host Committee
Thank You

Thank you to these sponsors and donors who made possible the awarding of a fall 2020 scholarship to a Jane Addams College of Social Work student.

Supporting Sponsors

Sherri F. Seyfried, ACSW, PhD '94

Advocate Sponsors

Faith Johnson Bonecutter, MSW '82
Linda and James P. Gleeson, PhD '84
Amy Starin, MSW '85, PhD '08

Friend Sponsors

Roseann Adams, MSW '91
Taneka Jennings, MSW '13
Jo Anne Smith, MSW '80

Donors

Jacquelyn M. Bonavia
Peter M. Chapman
Randy A. Fisher, MSW '73
Nathan L. Linsk
Charlie Stoops, MSW '95, PhD '03

Host Committee

Co-Chairs
Dr. Terry Solomon, MSW '77
James P. Gleeson, PhD '84

Immediate Past Chair
Bessie Sulton Akuamoah, MSW '81

Members
Fatimah Abidemi Abioye, MSW '17
Karyn Aguirre, MSW '04
Tiara Banks, MSW '17
James Bracey, MSW '08
Donald J. Dew, MSW '80
Lorri Glass, MSW '80, PhD '08
Carol Goldbaum, PhD '88
Taneka Jennings, MSW '13
Bill Martin, MSW '79
Hilda Ramos, MSW '98
Sherri F. Seyfried, ACSW, PhD '94
Jo Anne Smith, MSW '80
Amy C. Starin, MSW '85, PhD '08
Charlie Stoops, MSW '95, PhD '03
Daniel Talley, MSW '18
Theodore Thompson, MSW '90, PhD '99

Ex-Officio
Dean Creasie Finney Hairston, PhD
Jacquelyn M. Bonavia, Director of Advancement
Highlights from the 2019 Celebration
Karen J. Honig Memorial Lecture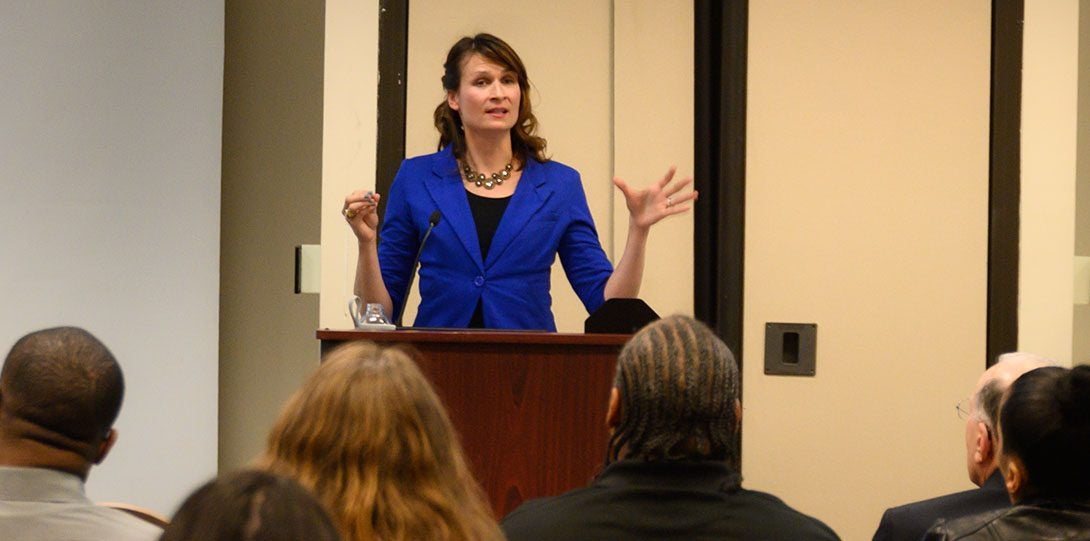 Karen J. Honig received her Master of Social Work degree from Jane Addams College of Social Work in 1986. Her family and friends established the Karen J. Honig Memorial Lecture to honor her memory and to focus on her commitment to inner city children and youth, as well as their families.
Every spring, JACSW alumni, faculty and students, as well as community partners of the college are invited to attend the lecture, which features a prominent speaker in the field of child welfare and well-being. Recent lectures have included:
The Intersection of Child Trafficking and Child Welfare: Lessons for Strengthening  Systems and Children's Rights by Katherine Kaufka Walts, JD, Director of the Center for the Human Rights of Children at Loyola University Chicago
Racial Disproportionality in Child Welfare: Fallacy or Reality? by Dr. Marian S. Harris, PhD, LICSW, ACSW, Professor of Social Work at the University of Washington Tacoma and internationally recognized child welfare scholar
JUST FOR KIDS: Pursuing Racial Equity to Achieve Child Well-being by the Reverend Starsky D. Wilson, President and CEO of Deaconess Foundation and Co-Chair of the Ferguson Commission
CEUs (continuing education units) are available for the Karen J. Honig Memorial Lectures.
Doctoral Student and PhD Alumni Reception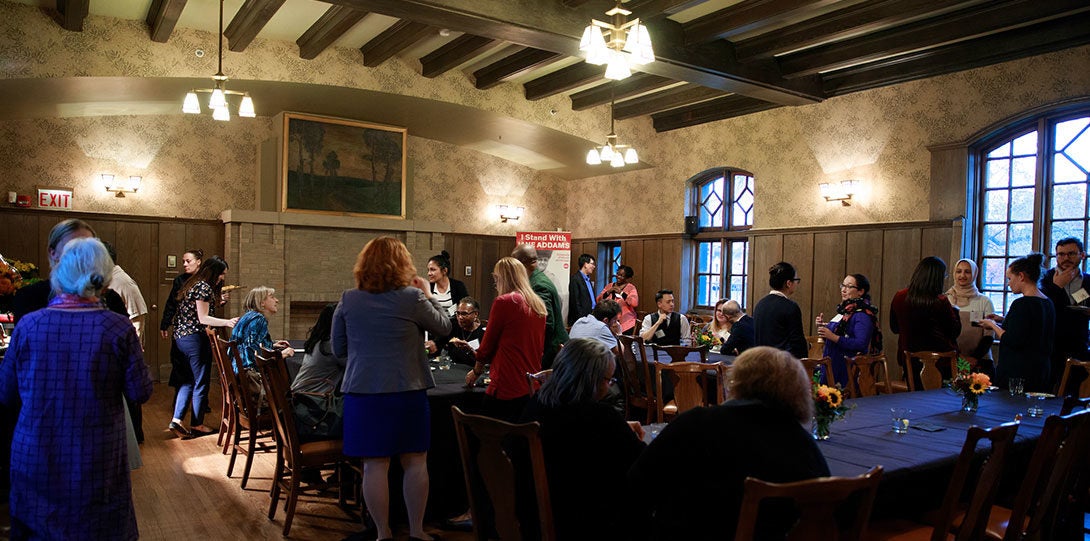 Every fall, JACSW doctoral students, faculty and alumni of the PhD program are invited to network and learn from one another. The event opens with a reception with hors d'oeuvres and refreshments, and culminates in a presentation by a PhD alumnus on choosing a research topic, writing a dissertation or career success after graduation. The 2019 speaker was alumnus Stephanie J. Schmitz Bechteler, PhD '15.
Alumni Peer-to-Peer Consultation Group
The college is a announcing a new opportunity for our hard-working Jane Addams professionals: quarterly peer-to-peer consultation group meetings.
The intention of the meetings is to provide a welcoming, open format for social workers to reconnect with fellow grads and network with other Chicago social work professionals. The meetings will begin with introductions followed by open sharing that can include discussion of common clinical issues, case presentations and sharing of resource information with the group. We want to provide a safe and comfortable forum for both practical and emotional support with other Jane Addams graduates.
Questions?  Contact Lisa Salvadore at lsalvado@uic.edu
Special thanks to JACSW Visiting Lecturer Lisa Salvadore and alumni Cece Sykes, MSW '82 and Rosanne Adams, MSW '91 for their work in conceiving and planning this new professional development opportunity for our alumni.