MSW Accreditation
About our CSWE Accreditation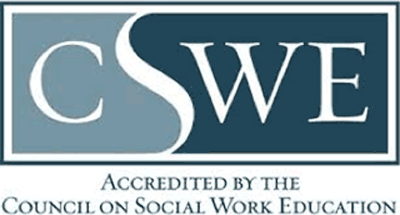 The Master of Social Work (MSW) Program offered by the Jane Addams College of Social Work is fully accredited by the Council on Social Work Education.
In accordance with accreditation standards, the College engages in a coordinated effort to assess student learning outcomes. Following is a summary of outcomes for the 2020-2021 academic year.
Summary of Assessment Outcomes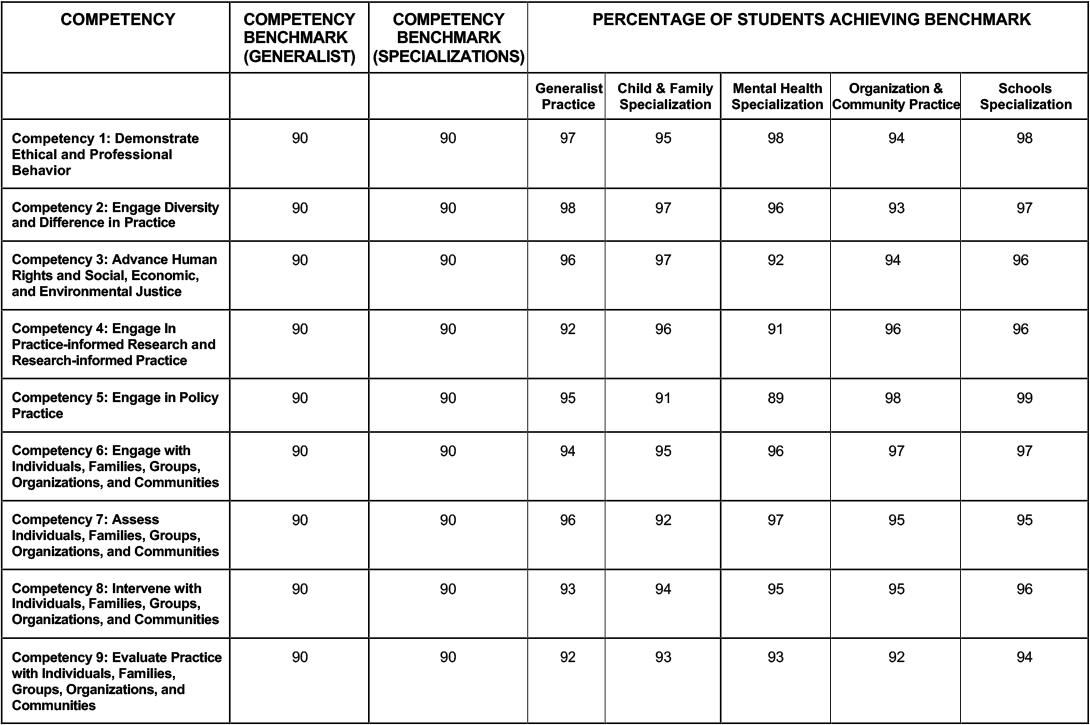 Measures Used for Assessment
The following measures are used to assess student performance of the Generalist and Specialized Practice Competencies. In the tables below the KVSCA refers to the Knowledge, Values, Skills, Cognitive and Affective Processes—the five dimensions of the competencies.
Assessment of Generalist Practice
Generalist Assessment Measure #1: Field Semester Evaluation

| | |
| --- | --- |
| Dimension(s) assessed: | KVSCA |
| When/where students are assessed: | End of each semester at the field placement site |
| Who assessed student competence: | Field Instructor |
| Outcome Measure Benchmark (minimum score indicative of achievement) for Competencies 1-9: | "Emerging" or "Demonstrating" Competency |
| Competency Benchmark (percent of students the program expects to have achieved the minimum scores, inclusive of all measures) for Competencies 1-9: | 90% |

Generalist Assessment Measure #2: Competencies Exam

| | |
| --- | --- |
| Dimension(s) assessed: | KVSCA |
| When/where students are assessed: | Course embedded assignment in SocW 430 and SocW 431 Generalist Practice I/II |
| Who assessed student competence: | Instructor |
| Outcome Measure Benchmark (minimum score indicative of achievement) for Competencies 1-9: | 80% |
| Competency Benchmark (percent of students the program expects to have achieved the minimum scores, inclusive of all measures) for Competencies 1-9: | 90% |

Generalist Assessment Measure #3: Multicultural Assessment

| | |
| --- | --- |
| Dimension(s) assessed: | KVSCA |
| When/where students are assessed: | Course embedded assignment in SocW 411: SW in a Multicultural Society |
| Who assessed student competence: | Instructor |
| Outcome Measure Benchmark (minimum score indicative of achievement) for Competencies 1-9: | 80% |
| Competency Benchmark (percent of students the program expects to have achieved the minimum scores, inclusive of all measures) for Competencies 1-9: | 90% |

Generalist Assessment Measure #4: Policy Analysis Paper

| | |
| --- | --- |
| Dimension(s) assessed: | KVSCA |
| When/where students are assessed: | Course embedded assignment in SocW 420: Social Welfare Policy & Services |
| Who assessed student competence: | Instructor |
| Outcome Measure Benchmark (minimum score indicative of achievement) for Competencies 1-9: | 80% |
| Competency Benchmark (percent of students the program expects to have achieved the minimum scores, inclusive of all measures) for Competencies 1-9: | 90% |

Generalist Assessment Measure #5: Accounting for Cultural Diversity in Research

| | |
| --- | --- |
| Dimension(s) assessed: | KVSCA |
| When/where students are assessed: | Course embedded assignment in SocW 460 Research I |
| Who assessed student competence: | Instructor |
| Outcome Measure Benchmark (minimum score indicative of achievement) for Competencies 1-9: | 80% |
| Competency Benchmark (percent of students the program expects to have achieved the minimum scores, inclusive of all measures) for Competencies 1-9: | 90% |
Assessment of Specialized Practice: Child and Family (C&F)
Child and Family Assessment Measure #1: Field Semester Evaluation

| | |
| --- | --- |
| Dimension(s) assessed: | KVSCA |
| When/where students are assessed: | End of each semester at the field placement site |
| Who assessed student competence: | Field Instructor |
| Outcome Measure Benchmark (minimum score indicative of achievement) for Competencies 1-9: | "Emerging" or "Demonstrating" Competency |
| Competency Benchmark (percent of students the program expects to have achieved the minimum scores, inclusive of all measures) for Competencies 1-9: | 90% |

Child and Family Assessment Measure #2: Ethical Dilemma Assignment

| | |
| --- | --- |
| Dimension(s) assessed: | KVSCA |
| When/where students are assessed: | Course embedded assignment in SocW 582: C&F Practice III |
| Who assessed student competence: | Instructor |
| Outcome Measure Benchmark (minimum score indicative of achievement) for Competencies 1-9: | 80% |
| Competency Benchmark (percent of students the program expects to have achieved the minimum scores, inclusive of all measures) for Competencies 1-9: | 90% |

Child and Family Assessment Measure #3: Cultural Formulation Interview Assignment

| | |
| --- | --- |
| Dimension(s) assessed: | KVSCA |
| When/where students are assessed: | Course embedded assignment in SocW 583: C&F Practice IV |
| Who assessed student competence: | Instructor |
| Outcome Measure Benchmark (minimum score indicative of achievement) for Competencies 1-9: | 80% |
| Competency Benchmark (percent of students the program expects to have achieved the minimum scores, inclusive of all measures) for Competencies 1-9: | 90% |

Child and Family Assessment Measure #4: Policy Community Assignment

| | |
| --- | --- |
| Dimension(s) assessed: | KVSCA |
| When/where students are assessed: | Course embedded assignment in SocW 552: C&F Policy II |
| Who assessed student competence: | Instructor |
| Outcome Measure Benchmark (minimum score indicative of achievement) for Competencies 1-9: | 80% |
| Competency Benchmark (percent of students the program expects to have achieved the minimum scores, inclusive of all measures) for Competencies 1-9: | 90% |

Child and Family Assessment Measure #5: EBP Final Project

| | |
| --- | --- |
| Dimension(s) assessed: | KVSCA |
| When/where students are assessed: | Course embedded assignment in SocW 583: C&F Practice IV |
| Who assessed student competence: | Instructor |
| Outcome Measure Benchmark (minimum score indicative of achievement) for Competencies 1-9: | 80% |
| Competency Benchmark (percent of students the program expects to have achieved the minimum scores, inclusive of all measures) for Competencies 1-9: | 90% |

Child and Family Assessment Measure #6: Policy History and Evaluation Assignment

| | |
| --- | --- |
| Dimension(s) assessed: | KVSCA |
| When/where students are assessed: | Course embedded assignment in SocW 552: C&F Policy II |
| Who assessed student competence: | Instructor |
| Outcome Measure Benchmark (minimum score indicative of achievement) for Competencies 1-9: | 80% |
| Competency Benchmark (percent of students the program expects to have achieved the minimum scores, inclusive of all measures) for Competencies 1-9 | 90% |

Child and Family Assessment Measure #7: Applying the ARC Model in Practice

| | |
| --- | --- |
| Dimension(s) assessed: | KVSCA |
| When/where students are assessed: | Course embedded assignment in SocW 582: C&F Practice III |
| Who assessed student competence: | Instructor |
| Outcome Measure Benchmark (minimum score indicative of achievement) for Competencies 1-9: | 80% |
| Competency Benchmark (percent of students the program expects to have achieved the minimum scores, inclusive of all measures) for Competencies 1-9: | 90% |

Child and Family Assessment Measure #8: Applying the Solution-Focused Model in Practice

| | |
| --- | --- |
| Dimension(s) assessed: | KVSCA |
| When/where students are assessed: | Course embedded assignment in SocW 582: C&F Practice III |
| Who assessed student competence: | Instructor |
| Outcome Measure Benchmark (minimum score indicative of achievement) for Competencies 1-9: | 80% |
| Competency Benchmark (percent of students the program expects to have achieved the minimum scores, inclusive of all measures) for Competencies 1-9: | 90% |
Assessment of Specialized Practice: Mental Health (MH)
Mental Health Assessment Measure #1: Field Semester Evaluation

| | |
| --- | --- |
| Dimension(s) assessed: | KVSCA |
| When/where students are assessed: | End of each semester at the field placement site |
| Who assessed student competence: | Field Instructor |
| Outcome Measure Benchmark (minimum score indicative of achievement) for Competencies 1-9: | "Emerging" or "Demonstrating" Competency |
| Competency Benchmark (percent of students the program expects to have achieved the minimum scores, inclusive of all measures) for Competencies 1-9: | 90% |

Mental Health Assessment Measure #2: Mental Health Competencies Exam

| | |
| --- | --- |
| Dimension(s) assessed: | KVSCA |
| When/where students are assessed: | Course embedded assignment in SocW 587: MH Practice IV |
| Who assessed student competence: | Instructor |
| Outcome Measure Benchmark (minimum score indicative of achievement) for Competencies 1-9: | 80% |
| Competency Benchmark (percent of students the program expects to have achieved the minimum scores, inclusive of all measures) for Competencies 1-9: | 90% |
Area of Specialized Practice: Organization and Community Practice (OCP)
OCP Assessment Measure #1: Field Semester Evaluation

| | |
| --- | --- |
| Dimension(s) assessed: | KVSCA |
| When/where students are assessed: | End of each semester at the field placement site |
| Who assessed student competence: | Field Instructor |
| Outcome Measure Benchmark (minimum score indicative of achievement) for Competencies 1-9: | "Emerging" or "Demonstrating" Competency |
| Competency Benchmark (percent of students the program expects to have achieved the minimum scores, inclusive of all measures) for Competencies 1-9: | 90% |

OCP Assessment Measure #2: Integrative Essay

| | |
| --- | --- |
| Dimension(s) assessed: | KVSCA |
| When/where students are assessed: | Course embedded assignment in SocW 520: OCP Practice IV |
| Who assessed student competence: | Instructor |
| Outcome Measure Benchmark (minimum score indicative of achievement) for Competencies 1-9: | 80% |
| Competency Benchmark (percent of students the program expects to have achieved the minimum scores, inclusive of all measures) for Competencies 1-9: | 90% |

OCP Assessment Measure #3: Activism Assignment

| | |
| --- | --- |
| Dimension(s) assessed: | KVSCA |
| When/where students are assessed: | Course embedded assignment in SocW 520: OCP Practice IV |
| Who assessed student competence: | Instructor |
| Outcome Measure Benchmark (minimum score indicative of achievement) for Competencies 1-9: | 80% |
| Competency Benchmark (percent of students the program expects to have achieved the minimum scores, inclusive of all measures) for Competencies 1-9: | 90% |

OCP Assessment Measure #4: Task Force Assignment

| | |
| --- | --- |
| Dimension(s) assessed: | KVSCA |
| When/where students are assessed: | Course embedded assignment in SocW 531: OCP Policy II |
| Who assessed student competence: | Instructor |
| Outcome Measure Benchmark (minimum score indicative of achievement) for Competencies 1-9: | 80% |
| Competency Benchmark (percent of students the program expects to have achieved the minimum scores, inclusive of all measures) for Competencies 1-9: | 90% |

OCP Assessment Measure #5: OCP Policy Research Assignment

| | |
| --- | --- |
| Dimension(s) assessed: | KVSCA |
| When/where students are assessed: | Course embedded assignment in SocW 531: OCP Policy II |
| Who assessed student competence: | Instructor |
| Outcome Measure Benchmark (minimum score indicative of achievement) for Competencies 1-9: | 80% |
| Competency Benchmark (percent of students the program expects to have achieved the minimum scores, inclusive of all measures) for Competencies 1-9: | 90% |

OCP Assessment Measure #6: Consciousness-Raising Assignment

| | |
| --- | --- |
| Dimension(s) assessed: | KVSCA |
| When/where students are assessed: | Course embedded assignment in SocW 520: OCP Practice IV |
| Who assessed student competence: | Instructor |
| Outcome Measure Benchmark (minimum score indicative of achievement) for Competencies 1-9: | 80% |
| Competency Benchmark (percent of students the program expects to have achieved the minimum scores, inclusive of all measures) for Competencies 1-9: | 90% |
Assessment of Specialized Practice: Schools
Schools Assessment Measure #1: Field Semester Evaluation

| | |
| --- | --- |
| Dimension(s) assessed: | KVSCA |
| When/where students are assessed: | End of each semester at the field placement site |
| Who assessed student competence: | Field Instructor |
| Outcome Measure Benchmark (minimum score indicative of achievement) for Competencies 1-9: | "Emerging" or "Demonstrating" Competency |
| Competency Benchmark (percent of students the program expects to have achieved the minimum scores, inclusive of all measures) for Competencies 1-9: | 90% |

Schools Assessment Measure #2: Professional Responsibilities & Ethics Mini-exam

| | |
| --- | --- |
| Dimension(s) assessed: | KVSCA |
| When/where students are assessed: | Course embedded assignment in SocW 551: Schools Policy II |
| Who assessed student competence: | Instructor |
| Outcome Measure Benchmark (minimum score indicative of achievement) for Competencies 1-9: | 80% |
| Competency Benchmark (percent of students the program expects to have achieved the minimum scores, inclusive of all measures) for Competencies 1-9: | 90% |

Schools Assessment Measure #3: School Climate and Culture Analysis KVSCA

| | |
| --- | --- |
| Dimension(s) assessed: | KVSCA |
| When/where students are assessed: | Course embedded assignment in SocW 551: Schools Policy II |
| Who assessed student competence: | Instructor |
| Outcome Measure Benchmark (minimum score indicative of achievement) for Competencies 1-9: | 80% |
| Competency Benchmark (percent of students the program expects to have achieved the minimum scores, inclusive of all measures) for Competencies 1-9: | 90% |

Schools Assessment Measure #4: Research Project

| | |
| --- | --- |
| Dimension(s) assessed: | KVSCA |
| When/where students are assessed: | Course embedded assignment in SocW 565: Schools Research II |
| Who assessed student competence: | Instructor |
| Outcome Measure Benchmark (minimum score indicative of achievement) for Competencies 1-9: | 80% |
| Competency Benchmark (percent of students the program expects to have achieved the minimum scores, inclusive of all measures) for Competencies 1-9: | 90% |

Schools Assessment Measure #5: Policy Analysis Project

| | |
| --- | --- |
| Dimension(s) assessed: | KVSCA |
| When/where students are assessed: | Course embedded assignment in SocW 551: Schools Policy II |
| Who assessed student competence: | Instructor |
| Outcome Measure Benchmark (minimum score indicative of achievement) for Competencies 1-9: | 80% |
| Competency Benchmark (percent of students the program expects to have achieved the minimum scores, inclusive of all measures) for Competencies 1-9: | 90% |

Schools Assessment Measure #6: Group Work with Children Assignment

| | |
| --- | --- |
| Dimension(s) assessed: | KVSCA |
| When/where students are assessed: | Course embedded assignment in SocW 589: Schools Practice IV |
| Who assessed student competence: | Instructor |
| Outcome Measure Benchmark (minimum score indicative of achievement) for Competencies 1-9: | 80% |
| Competency Benchmark (percent of students the program expects to have achieved the minimum scores, inclusive of all measures) for Competencies 1-9: | 90% |

Schools Assessment Measure #7: Social Development Study Assignment

| | |
| --- | --- |
| Dimension(s) assessed: | KVSCA |
| When/where students are assessed: | Course embedded assignment in SocW 583: Schools Practice III |
| Who assessed student competence: | Instructor |
| Outcome Measure Benchmark (minimum score indicative of achievement) for Competencies 1-9: | 80% |
| Competency Benchmark (percent of students the program expects to have achieved the minimum scores, inclusive of all measures) for Competencies 1-9: | 90% |

Schools Assessment Measure #8: Critical Service Learning Assignment

| | |
| --- | --- |
| Dimension(s) assessed: | KVSCA |
| When/where students are assessed: | Course embedded assignment in SocW 589: Schools Practice IV |
| Who assessed student competence: | Instructor |
| Outcome Measure Benchmark (minimum score indicative of achievement) for Competencies 1-9: | 80% |
| Competency Benchmark (percent of students the program expects to have achieved the minimum scores, inclusive of all measures) for Competencies 1-9: | 90% |