JACSW Alumna's Star Continues to Rise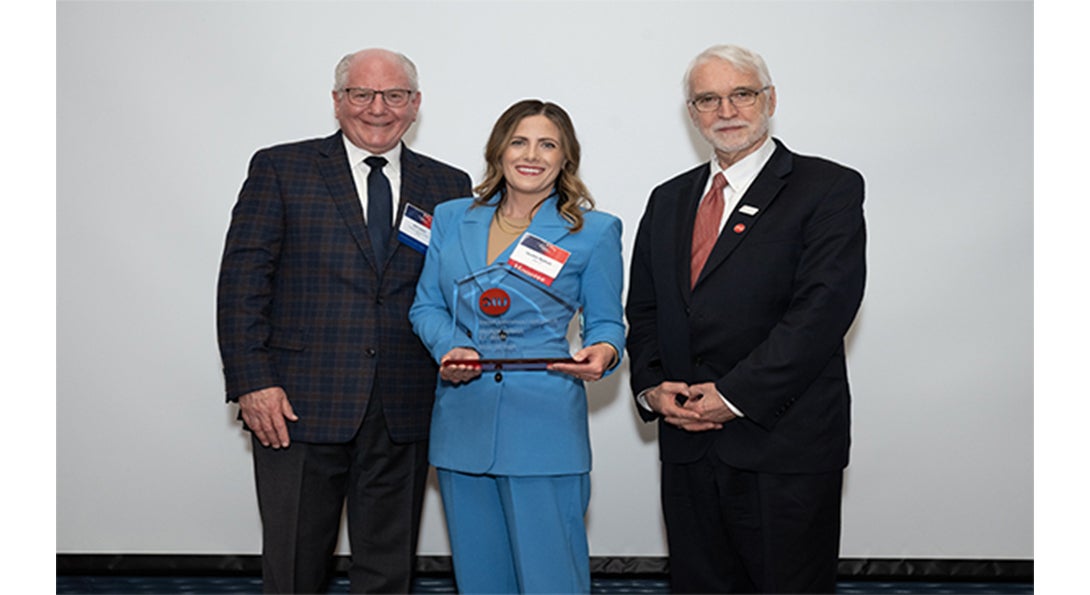 Jenifer Nyhuis, a 2012 graduate of the Jane Addams College of Social Work, received the Rising Star Award presented annually by the University of Illinois Chicago Alumni Association. The recognition was bestowed upon Nyhuis at a ceremony on April 22 on UIC's campus.
Nyhuis is the chief executive officer of Havenwyck Hospital, the largest behavioral health hospital in Michigan. Along with her duties as CEO, Nyhuis is regional vice president of Universal Health Services, leading five health care facilities in Michigan, of which Havenwyck is one.
During her acceptance speech, Nyhuis credited her "impeccable education from the Jane Addams College of Social Work at UIC" in preparing her for the "incredible journey I have been on since 2012."
"The focus on community collaborations helped me to have the right connections and community partners during critical times – even when I was a new member in the community," Nyhuis told the audience. "What I have learned (both through my education and my experience) is that creating strong and lasting relationships will determine your success in the healthcare field."
Following her graduation from Indiana Wesleyan University with a degree in psychology, Nyhuis waited five years before entering graduate school. She debated what degree to pursue, eventually narrowing her choices to social work and physical therapy. Reflecting on what would provide her with the greatest fulfillment, she decided upon social work.
During her course work at the JACSW, Nyhuis discovered that pursuing a career at the micro social work level did not interest her. With the guidance of Barbara Coates, a former JACSW professor, Nyhuis' career path became clearer.
"Barbara Coates was instrumental in helping me see the possibilities in this career, and she helped me to establish who I wanted to be in this world," Nyhuis said. "She even helped me land my first interview post-graduation, in which I secured the job of manager of social services, disabilities, and mental health services (at the Salvation Army)."
After two years, Nyhuis accepted a position at Chicago Lakeshore Hospital, where her career, she said, began to flourish. With her career trajectory on the rise, Nyhuis accepted several positions within the social work and healthcare fields, eventually becoming CEO of Vista Del Mar Hospital in Ventura, Calif. Only six months into her tenure, on Dec. 4, 2017, Nyhuis was faced with a circumstance she had never encountered before and hopes to never again.
High winds in Ventura County caused power lines to meet each other, creating an electrical arc that deposited hot, burning or molten material onto the ground about 30 miles from the hospital campus. Initially described as a small fire (it ultimately raged for 40 days, burning 281,893 acres, and destroying 1,063 structures), Nyhuis' staff alerted her at 10:30 p.m. that evening that they could see the blaze from the top of a nearby ridge. Rushing to the hospital, Nyhuis attempted to call 911, but emergency personnel - fire and police departments, and emergency management services (EMS) - were unavailable to assist.
"Without any aid I had to make the impossible call to evacuate over 100 patients and staff out of the hospital to a local Red Cross shelter," Nyhuis said. "This was no small feat considering that our hospital served patients in the midst of acute mental health crisis and/or detox. The risks were huge, but as I saw the fire coming down from the surrounding hills on every side of us, I knew that this was our only option to ensure our safety."
All of the patients were placed in employees' cars, including her own, and safely transported to the shelter. Nyhuis and her staff stayed up all night transferring the nearly 100 patients to nearby hospitals; the final patient left in an ambulance at 4 p.m. the following day. That night, Nyhuis learned that the hospital was severely damaged and two of the patient buildings burned to the ground. Within the month, with no facility to treat patients, Nyhuis was forced to lay off all 300 employees with the exception of a few directors.
Acutely aware that the hospital and its facilities were a critical loss to the community, Nyhuis and her colleagues worked tirelessly to rebuild the structures and ready them for patients and staff to return.
"With extreme effort, including testifying twice before the California legislature, we managed to open our outpatient facilities in four months and our inpatient facilities in 10 months. Considering the regulations in California, this was nothing short of a miracle," Nyhuis said.
Finally, extending her appreciation to her family (her wife and two daughters) for always being by her side, Nyhuis thanked the audience for listening to her story.
"I'm excited to find out what is next," she said. "I am just getting started."
Modified on August 10, 2023