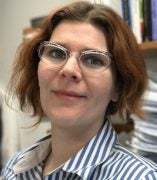 Jodie Bargeron
Doctoral Student
About
Jodie Bargeron received her BSW in 2003 from Grand Valley State University, in Michigan. After serving in the Peace Corps, she returned to that institution for her MSW (2007) and then promptly decamped for Chicago.
She has since worked as a direct service provider, as a support group facilitator, and at the program and policy levels.
In 2014, she joined the staff here at JACSW as a mental health research specialist. She enjoys practicing social work as a researcher and plans to study mental health through the lifespan, focusing on mid-life and older age.