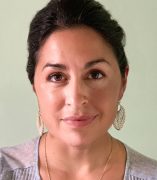 Kathryn Bocanegra
Assistant Professor
Pronouns: She/Her/Hers
About
Dr. Bocanegra has over 15 years of experience in community mental health, community violence prevention, and criminal justice reform work.
Professional Interests:
Community violence prevention
Complex trauma and bereavement
Working with survivors of violent crime
Examining the intersection of the criminal justice system with urban neighborhoods
Selected Publications
Articles:
Deane, K., Zakaryan, A., Romero, E., Richards, M., Bocanegra, K., DeCarlo Santiago, C., & Scott, D. (2020). Mexican American Urban Youth Perspectives on Neighborhood Stressors, Psychosocial Difficulties, and Coping: En Sus Propias Palabras. Journal of Child and Family Studies, 29, 1780–1791. doi: doi.org/10.1007/s10826-019-01683-3
Bocanegra, K. (2018). Community Context and Mass Incarceration. In R.D. Morgan (Ed.) The Sage Encyclopedia of Criminal Psychology. Alexandria, VA: American Correctional Association.
Bocanegra, K. (2017). Community and Decarceration: Developing Localized Solutions. In M Epperson & C. Pettus-Davis (Eds.) Smart Decarceration. Oxford, UK: Oxford University Press.
Voisin, D., Kim, D., Takahashi, L., Morotta, P., & Bocanegra, K. (2016). Involvement in the juvenile justice system for African American adolescents: Examining associations with adolescent wellbeing. Journal of Social Service Research, 43(1), 129-140.
Other Publications:
Bocanegra, Rak. (2015). The Little Village Youth Safety Map. Enlace Chicago.
Education
BA, Vanderbilt University
MA, La Universidad Pontificia Comillas, Madrid, Spain
AM, University of Chicago
PhD, University of Chicago
Research Currently in Progress
Spatial analysis of probation in Cook County
Reducing revocations among probationers
Impact analysis of evidence-based probation supervision methods
Improving the effectiveness of homicide investigations