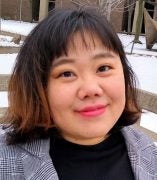 Shih-Ying Cheng
Assistant Professor
Pronouns: She/Her/Hers
Contact
Building & Room:
4256 ETMSW
Office Phone:
Email:
About
Inspired by my social work practice with survivors of intimate partner violence (IPV) and marriage immigrants who migrated to Taiwan through international marriages (mostly via marriage brokers), my research focuses on gender-based violence (GBV), with special attention to severe forms of violence and GBV among vulnerable populations. I study the impact of GBV on survivors, survivors' recovery process (e.g., coping strategies, help-seeking experiences), and the implementation of evidence-based interventions.
Professional Interests:
Gender-based violence
Evidence-based practice
Recent immigrants
Teaching Experience:
SocW 460 Research I: Social Work Research
Selected Publications
Articles
Jiwatram-Negron, T., Cheng, S.-Y., Wachter, K., Kappas Mazzio, A., Ward, M., Reed, L., Messing, JT. (2022) "Examining Associations Between Multiple Types of IPV and Adverse Mental Health Among IPV Survivors." Journal of Family Violence. https://link.springer.com/article/10.1007/s10896-022-00472-9
Kohl, P. L., Krauss M. J., King C., Cheng S.-Y., Fowler P., Goodwin D. N., Tillis C. D., Sullivan H., Sorg A., & Mueller N. B. (2022). The impact of responsible fatherhood programs on parenting, psychological well-being, and financial outcomes: A randomized controlled trial. Family Process, 00, 1–19. https://doi.org/10.1111/famp.12752
Gerassia, L., Cheng, S.-Y., Muentnera, L., & Bensonc, M. (2021). Prevalence and associated characteristics of youth who trade sex in a representative sample of high school students. Journal of Adolescence. https://doi.org/10.1016/j.adolescence.2021.09.008
Ogbonnaya, I. N., AbiNader, M. A., Cheng, S.-Y., Jiwatram-Negrón, T., Bagwell-Gray, M., Brown, M. L., & Messing, J. (2021). Intimate partner violence, police engagement, and perceived helpfulness of the legal system: An analysis by survivor race and ethnicity. Journal of the Society for Social Work and Research. https://doi.org/10.1086/714828
Cheng, S.-Y., Wachter, K., Kappas, A., Brown, M., Messing, J. T., Bagwell-Gray, M., & Jiwatram-Negron, T. (2020). Patterns of help seeking strategies in response to intimate partner violence: A latent class analysis. Journal of Interpersonal Violence. doi: 10.1177/0886260520966671
Cheng, S.-Y., Shen, A. C.-T., & Jonson-Reid, M. (2022; online first in 2020). Profiles of teen dating violence and association with depression among Chinese teens. Journal of Interpersonal Violence, 37(1–2), NP776–NP802doi:10.1177/0886260520918573
Cheng, S.-Y., Davis, M., Jonson-Reid, M., & Yaeger, L. (2021; online first in 2019) Compared to what? A meta-analysis of batterer intervention studies using non-treated controls or comparisons. Trauma, Violence, & Abuse, 22(3),496-511. doi:10.1177/1524838019865927
Cheng, S.-Y., Amano, T., Perez-Aponte, J., & Pandey, S. (2019). Recent immigrants' use of dental care and health insurance status in the USA. Global Social Welfare, 6(2), 107-119. doi:10.1007/s40609-018-00131-2
Beeler-Stinn, S., Cheng, S.-Y., Patterson Silver Wolf, D. (2018). A case study of a network analysis of drug use and emergency department visits in St. Louis: Supporting a quicker rehabilitation. Journal of Life Care Planning, 16(2), 23-30.
Cheng, S.-Y. (2015). The author's response "Toward a more delicate typology of intimate partner violence: The theoretical and historical controversies". Formosa Journal of Mental Health, 28(4), 513-519. doi:10.30074/FJMH.201512_28(4).0004 (In Chinese)
Cheng, S.-Y. (2015). Why don't victims of intimate partner violence leave? A case study. Formosa Journal of Mental Health, 28(4), 481-497. doi:10.30074/FJMH.201512_28(4).0001 (In Chinese)
Cheng, S.-Y. & Yu, H.-Y. (2014). A time to submit and a time to resist: The family caregiving struggle of new immigrant women from Southeast Asia. NTU Social Work Review, 29, 149-198. doi:10.6171/ntuswr2014.29.04 (In Chinese)
Cheng, S.-Y. (2012). Hidden violence: New immigrant women's sufferings. Forum in Women's and Gender Studies, 97, 22-24. doi:10.6256/FWGS.2012.97.22 (In Chinese)
Book Chapters
Cheng, S.-Y. (2013). Social education, advocacy and empowerment. In Pan, S.-M. (Eds.), Social Work Practice with Immigrants (pp.137-149). Taipei, Taiwan: Chuliu & Taiwan Association of Social Workers. (In Chinese)
Education
BS, National Cheng-Chi University
BA, National Cheng-Chi University
MSW, National Taiwan University
PhD, Washington University
Professional Memberships
Society for Social Work Research (SSWR)
National Association of Social Workers (NASW)
Research Currently in Progress
Child fatality cases with prior child welfare contact
The intersection of intimate partner violence and child maltreatment
Survivor strategies responding to sexual harassment and assault
The nexus of empowerment practice and cognitive processing therapy in rape crisis centers
Patterns and trends among intimate partner homicide cases
The role of child protective services in childhood sexual abuse survivors' recovery