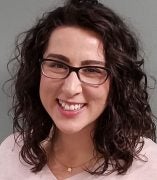 Lauren Cox
Doctoral Student
About
Lauren Cox is an LCSW who received her BSW (2011) and MSW (2012) from Florida State University. She entered the Doctoral Program in the Fall of 2018. Her clinical experience includes the treatment of trauma and anxiety disorders with urban, underserved youth.
She currently works at the Institute for Juvenile Research (IJR) in the UIC Department of Psychiatry. At IJR, she supervises and educates multidisciplinary students, including master's level social workers, who are learning evidence-based treatments for trauma and anxiety disorders with youth.
Her research interests include trauma and anxiety disorders, social media use in childhood and adolescence, and dissemination and implementation of evidence-based treatments of trauma and anxiety disorders with underserved youth.
When she isn't working, she enjoys exploring Chicago and reading a good book at home with her cat, Moo.