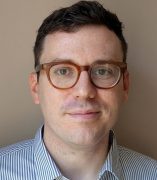 John R. Fallon
Doctoral Student
About
John R. Fallon received his MSSW from Columbia University in 2013 and BA from the University of Pittsburgh in 2009. He entered the PhD program at Jane Addams College of Social Work in 2016. John's research interests are primarily related to early childhood development.
Past work experience includes providing supportive housing services to mental health consumers in New Jersey, serving as a health educator to middle and high school students in the Bronx. Also John assists the Department of Defense's suicide prevention policy office.
Currently, John oversees the compliance of Head Start grantees to federal regulations. In doing so, he works with programs that serve the needs of low-income families in Illinois, Indiana, Michigan, Minnesota, Ohio, and Wisconsin.