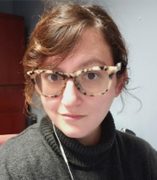 Andie Riffer
Doctoral Student
About
Andie Riffer earned their MSW at Syracuse University and their BA at Indiana University.
With clinical experience in providing specialized sexual abuse services, they also developed and advocated for policy initiatives regarding sexual abuse in housing and preventing sexual violence through education, research, and advocacy. Currently, they are working on a qualitative research project regarding non-binary experiences and serving on the advisory board for the Alliance of Disability and Social Work.
Having published several poems and short fiction pieces, they value the role of art in social work, with the hope of incorporating it into their future work.