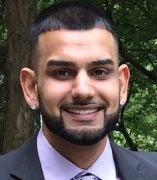 Umair Tarbhai
Doctoral Student
About
Umair entered the PhD program in the Fall of 2019. He graduated cum laude with a Bachelor of Arts from Saint Xavier University, received a Master of Arts from Northwestern University where he was a Harris Scholar, and a Master of Social Work from The University of Illinois-Chicago.
He has worked as a consultant and researcher in many settings including After School Matters, The Kellogg School of Management, The Aga Khan Development Network, and the Human Development and Social Policy department at Northwestern University. Currently he is a Graduate Research Assistant at UIC's Institute for Policy and Civic Engagement, primarily focused on building the community survey as part of the Independent Monitoring Team for the Chicago Police's consent decree with the Department of Justice.
His research interests include policy analysis, criminal justice reform, policing, and drivers of economic inequality. In his spare time, he enjoys playing basketball which he played collegiately for three years at Saint Xavier University and also maintains a small private practice as a therapist and consultant in Evanston.