JACSW, UIC Playing Critical Role in Boosting State's Behavioral Health Workforce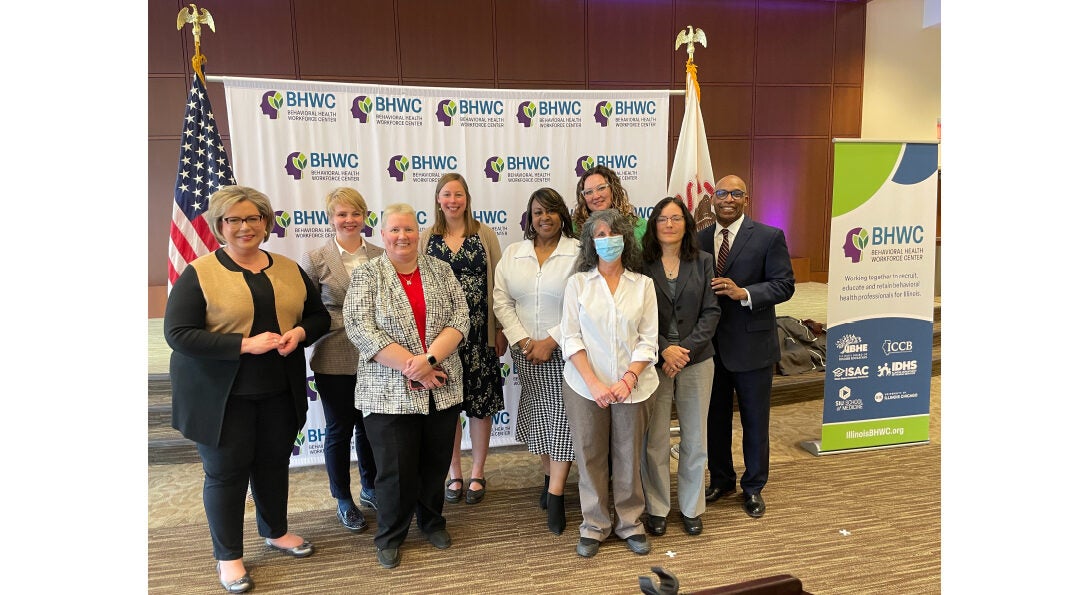 The state of Illinois is facing a critical shortage of behavioral health care providers, but through a new statewide initiative that the University of Illinois Chicago's Jane Addams College of Social Work is collaborating on, the capacity of the behavioral health workforce will increase.
Illinois Gov. JB Pritzker recently announced the formation of the Illinois Behavioral Health Workforce Education Center, a joint initiative of the state's Department of Human Services and the Illinois Board of Higher Education that will address the shortfall. Southern Illinois University School of Medicine (SIU SOM) will serve as the primary administrative hub in Springfield, providing coordination and support for building the behavioral health workforce pipeline and increasing entry into the field. The JACSW will serve as the secondary hub, supporting specific data collection and training initiatives.
"From care portals and universal screenings to improved coordination of service delivery and increased statewide capacity, we are laying out a plan to build the best behavioral health system in the nation," Pritzker said at the press conference announcing the center.
State lawmakers sounded an alarm about the staffing shortages in an unanimous 2018 resolution. The following year the Behavioral Health Workforce Education Center Task Force, chaired by JACSW adjunct faculty member Marvin Lindsey, issued a final report recommending the creation of a hub-and-spoke center to address unmet mental and behavioral health needs. The center will begin with a $5 million annual investment from the Department of Human Services.
"We're excited to have this opportunity to understand the needs of the behavioral health workforce and support their training and career development," said JACSW Professor Sonya Leathers, PhD, who serves as co-director of Center activities at UIC. "We hope to increase access to effective services through initiatives that will provide critically needed support and training for behavioral health providers in a range of traditional and nontraditional settings."
"We have been facing a workforce crisis in mental health for years due to a shortage of behavioral health specialists," said Dr. Kari Wolf, chair of psychiatry at Southern Illinois University's School of Medicine and CEO of the Behavioral Health Workforce Center. "Local staffing levels were already critical in rural and small urban communities, and the pandemic made matters worse globally, with a 25 percent increase in people seeking mental health care. Through the center, we aim to assess current educational pathways and create additional training opportunities to develop a diverse behavioral health workforce that is distributed across the entire state."
Due to the shortage of behavioral health care workers, Illinois ranks among the bottom half of states in Mental Health America's rating for access to mental health care.
"Across Illinois, services are particularly lacking in rural and low- to middle-income areas," Leathers said. "The current waitlist times to access services is frequently several months or longer, with some agencies reporting they have closed their waitlists. In urban, low-income areas, difficulty in obtaining adequate behavioral health treatment compounds racial inequities in health care outcomes."
Adults suffering from substance abuse, particularly opioid use disorder, are at an increased risk of death in Illinois. In preliminary data released in January 2023, the Cook County Medical Examiner's Office recorded more than 1,500 deaths from opioid abuse in 2022, and that number was expected to rise by about 400 to 500, as toxicology reports were incomplete. The final figure, anticipated to be more than 2,000, would eclipse 2021's record for opioid abuse deaths. Seventy eight percent of the deaths were male, and 71% were people of color. Primary care professionals and community workers can play a key role in addressing substance abuse needs, but additional training and support is needed to increase accessible services, Leathers said.
Additional areas needing support include training and professional development opportunities for individuals in entry level behavioral health positions, services for culturally diverse children and families, access to psychiatric care (especially in rural areas), and services for clients who primarily speak Spanish, she said. To increase access to services, the Center will focus on supporting the development of behavioral health services in untraditional settings such as primary care and community locations.
In the program's first year, UIC will direct four initiatives:
Quality Behavioral Health Care Initiative: This will identify and support the dissemination of effective training models for existing providers to increase staff retention and use of evidence-based services throughout professional development. Particular focus will be placed on entry level mental health providers and supervisors in community mental health.
Integrated Care Initiative: Involves identifying and disseminating strategies and brief interventions for increasing the capacity of primary care physicians, physician assistants, social workers, pharmacists and nurses to meet behavioral health and substance abuse needs in primary health care settings.
Parent Support Initiative: Evaluates parent training models, supports dissemination of selected models, and expands peer support training and certification programs to improve early and middle childhood and adolescent behavioral health outcomes. A pilot program will be conducted in the first year that will circulate the early intervention Chicago Parent Program to sites across the state.
Lived Expertise/Recovery Support Specialists/Community Workers Training Models Initiative: Training and intervention models will be developed in collaboration with both educational institutions and behavioral health providers to support quality training in specific areas in which recovery support specialists/community workers are employed, including with people that have severe and persistent mental illness and those with substance use issues.
Public and independent universities and community colleges across all regions of the state will be invited to participate as partners to increase the statewide impact. All consortium members will coordinate programs and oversee initiatives to increase the behavioral health care workforce and its capacity to provide high-quality behavioral health services.
JACSW faculty collaborators include Assistant Professor Ray Eads, PhD, Associate Professor Branden McLeod, PhD, and Adjunct Faculty Marvin Lindsey, MSW. Additional collaborators from UIC include Stephen Brown, MSW, LCSW, College of Medicine; Judith Cook, PhD, Department of Psychiatry; Cynthia Handrup, DNP, College of Nursing; David Jimenez, PhD, School of Public Health; Basmattee Boodram, PhD, School of Public Health; Ava Salonis, MA, Community Health Worker Training and Technical Assistance Center; Dr. Stockton Mayer, Department of Medicine; and Jennie Jarrett, PharmD, College of Pharmacy.
Modified on May 04, 2023